Read Time: 5 minutes 20 seconds
I have been a loyal user of Versa for more than two years and earned RM580+ from its Money Market Funds (MMF)
At that time, Versa was merely an MMF app.
Today, Versa provides another MMF that is Shariah-compliant and investment portfolios comprised of Gold, REITs, stocks, and bonds.
But is it worth investing in?
Let's explore that!
In today's newsletter, I will share my review of Versa on what we can do with it, what I like about it, and what I don't like.
p/s: This week's newsletter will be longer than usual.
What is Versa
Versa is a digital cash management platform that provides users the convenience to invest, mainly in Money Market Funds (MMF). It also provides portfolios of other assets such as REIT, Gold, and stocks.
The above assets are held by an independent registered trustee; separated from Versa's funds – Affin Hwang Asset Management (AHAM Capital), one of Malaysia's largest asset management firms.
The partnership between Versa and AHAM Capital allows Malaysians to earn returns from their savings via a mobile app.
Besides investments, Versa also has a section that provides users with articles that cover the basics of personal finance and investing. These articles are helpful for those who seek to improve their financial literacy.
Ever since it was launched in Jan 2021, Versa has obtained conditional approval from the Securities Commission Malaysia ("SC") to operate its digital cash management platform.
Let's check out what we can do with Versa.
Main Features of Versa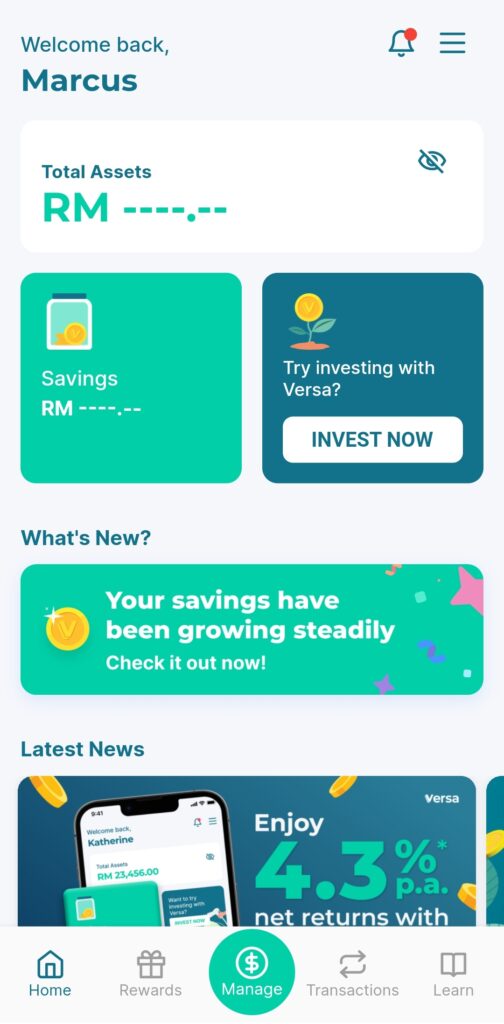 There are two main features of Versa:
Versa Cash
Versa Invest
Versa Cash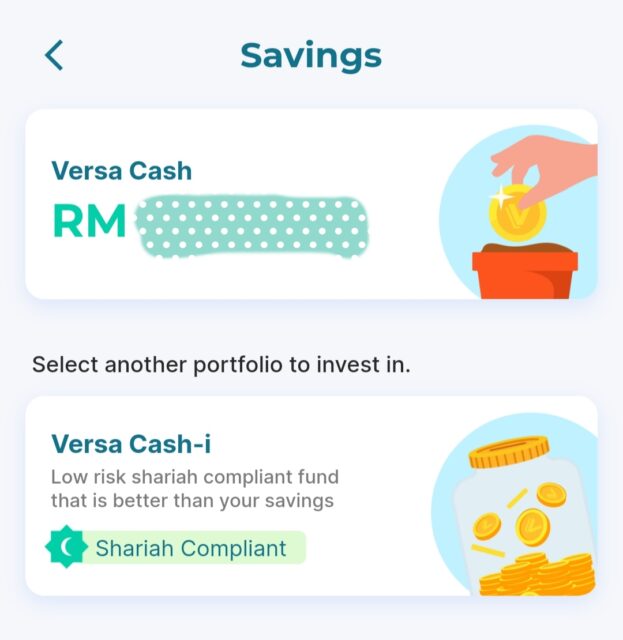 Versa Cash is where we can invest in money market funds. It is the best place for us to grow our money in a low-risk investment, which is Money Market Funds (MMF).
There are two account types for Versa Cash:
Choose Versa Cash-i if you seek to invest in a Shariah-compliant fund.
Versa Invest
Besides MMF, Versa also provides four portfolios that we can choose from:
Versa Moderate: comprises 70.6% in fixed income, 27.2% in equity (stocks), and the rest in cash.
Versa Growth: comprises 85.1% in equity (stocks), 12.3% in fixed income, and the rest in cash.
Versa REIT: comprises 77.1% of Singapore REITs, 12.26% of Hong Kong REITs, 5.55% of Malaysian REITs, and the rest in cash.
Versa Gold: 99.1% of the fund is in the TradePlus Shariah Gold Tracker Fund. This portfolio is Shariah-compliant.
Versa Moderate's annualized return is 3.3%, excluding its 1% annual fee.
Although this portfolio has stock exposure, its return is still lower than Versa Cash. It is not worth considering at all.
Versa Growth's annualized return is 7.6%, excluding its 1% annual fee.
It's almost the same return as EPF after deducting the annual fee. I rather invest in EPF or S&P 500 ETF for a better return.
Versa REIT's annualized return is -0.1%, excluding its 1.8% annual fee.
I don't think anyone will invest in this portfolio. If you are interested in investing in REITs, it's better to pick our local REITs via a brokerage account.
Versa Gold's annualized return is 5.6%, excluding its 0.3% annual fee.
In my opinion, it's better to buy physical gold than invest in digital gold because physical gold doesn't have any annual fee and it's a tangible asset. But feel free to try this if you are confident in gold as an investment.
Things to Know about Versa
Deposit & Withdrawal
Deposit money into Versa is easy, as it uses FPX payment which we Malaysians are familiar with. It will lead us to log in to our bank account and key in the OTP sent to us, and our money will be transferred to Versa instantly.
For withdrawal, it will roughly take 1 to 2 business days to reach our bank account. It's still acceptable for me to wait for 1 or 2 days. The withdrawal will take longer if you withdraw it before or during weekends.
Fees
Versa is transparent with the fees charged for each investment.
It charges 0.3% annual fees on MMF, and the annual fees for the 4 portfolios from Versa Invest are mentioned above.
Referral Program
Both you and your friend will each get RM10 if your friend uses your referral code to open a Versa account and deposit RM100.
This is an excellent way to earn some side income if you have many followers on your social media accounts.
Auto Debit
This is a relatively new feature that Versa recently introduced. We can schedule auto debit to deposit our money into Versa monthly.
However, it is fixed on every 5th day of the month.
What I like about Versa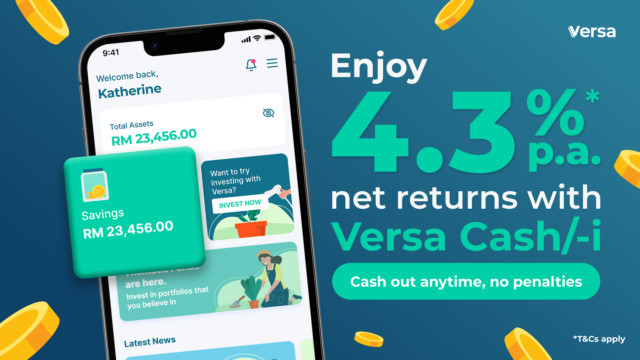 In 2023, I observed many MMF platforms are trying to attract users with their best return. And Versa always gives a competitive rate.
As of today (19-Aug-2023), Versa has been promoting its Versa Cash's return of up to 4.3% (with a minimum of RM1,000)
This is one of the reasons why I still stick with Versa today. I can see the efforts given to provide a great user experience for the users who use its app.
Daily Interest (Even During Cash Out)
Interestingly, Versa will still give daily interest on our withdrawn money. As the withdrawal takes 2 to 3 working days, we will get more money than what we withdrew when the money reached our bank accounts.
For example, when I withdraw RM5,000 from Versa, I received RM5,001.69 in my bank account instead. Who wouldn't be happy with the extra money?
What Versa Can Improve
Honestly, I have nothing to hate about Versa, but I do see there are still rooms for Versa to improve.
I understand why Versa fixed the schedule for its auto debit feature. It reduced the transaction fees needed to transfer funds from banks to Versa if it only happen once a month.
But it is always better and more flexible if we can choose the day for our monthly auto-debit.
Better investment portfolios
For its current portfolios, Versa Gold is the only portfolio that I think is worth to invest.
If Versa wants to attract more users, I think having thematic portfolios or single ETF portfolios will attract users that are interested in certain sectors, countries, or ETFs.
In Summary
Although I only use Versa Cash, it has become one of my crucial financial tools to grow my short-term savings (emergency funds and sinking funds).
Hopefully, my review will be useful and informative to you when you consider using Versa.
If you are interested and don't have a Versa account yet, you may use my referral code "AL9JZJ9H" to get a free RM10 when you deposit RM100 into your Versa account.
That's all for this week, my friend!
Talk with you again next week.
Your Money Buddy,
Marcus
---
Whenever you're ready, there are 2 ways I can help you:
1) Book a ​1-to-1 Call Session​ with me to pick my brain, whether it is about investing, money management, or any topic you're interested to learn
2) If you're not sure which platform to invest your money, here are 3 platforms that I personally use:
→ Rakuten Trade – Where I invest in US index fund ETFs. Get RM22.88 worth of RT points if you register & unlock foreign trading with my referral link.
→ Wahed Invest – Where I invest in Shariah-compliant US ETF. Get free RM10 if you register a new account with my referral code "markeo1"
→ Versa – Where I invest my emergency fund for a 4.3% return (up to RM30k). Get free RM10 if you register a new account with my referral code "AL9JZJ9H"