Oh hello there! Welcome to my resource page!
This is where you can find the apps and tools that I personally use to manage and invest my money. You can also find some spreadsheets that I personally use on this page.
Disclaimer:
This page may contain affiliate links that give me some commissions if you sign up or purchase it, which has no additional cost to you.
Rakuten Trade
Rakuten Trade is an online broker which allows Malaysians to trade Malaysian, US and HK stocks. I started my stock investing journey with Rakuten Trade and still have most of my investments on this platform.
If you are keen to invest in US ETFs such as the S&P500 index fund, Rakuten Trade is the best platform that has low fees and is regulated by Malaysian SC. Furthermore, it is easy to deposit and withdraw our money from this app.
Use my referral link below to get 1000 Rakuten Points (RM10 brokerage rebate) when you sign up for a new account, and get 2000 Rakuten Points when you activate foreign trading with your account.
Versa
I love using Versa as my emergency fund account. It is not only low-risk (referring to Versa Save, not Versa Invest), but it also grows my money better than a fixed deposit.
You can use my referral code "AL9JZJ9H" to claim a free RM10 when you open a new account in Versa and deposit a minimum of RM100.
Related Article: Better Alternatives for Fixed Deposit
Luno
Luno is a cryptocurrency exchange platform that user-friendly and regulated by Malaysian SC. I only invest a small percentage of my capital in cryptos, mainly Bitcoin and Ethereum.
Use my referral code "GMJZTR" or click the link below to open a new Luno account and get free RM25 in Bitcoin if you buy RM250 worth of Bitcoin with Luno.
Related Article: How to Invest in Bitcoin Malaysia
Wahed Invest
Wahed Invest is the first shariah-compliant (halal) robo-advisor in Malaysia. It is very beginner-friendly as it has a simple and intuitive user interface.
It offers several portfolios with different risk levels and geographical regions. There are portfolios with a mixture of US and Malaysia or just US stocks.
Personally, I chose the "US stocks" portfolio as I am a firm believer that the US market always goes up in the long term.
if you are interested in signing up, feel free to use my referral code "MARKEO1" for free RM10 when you deposit RM100 into your Wahed account.
Related Article: Wahed Invest Portfolio Review: Invest in What You Know
Marcus's Stock Dashboard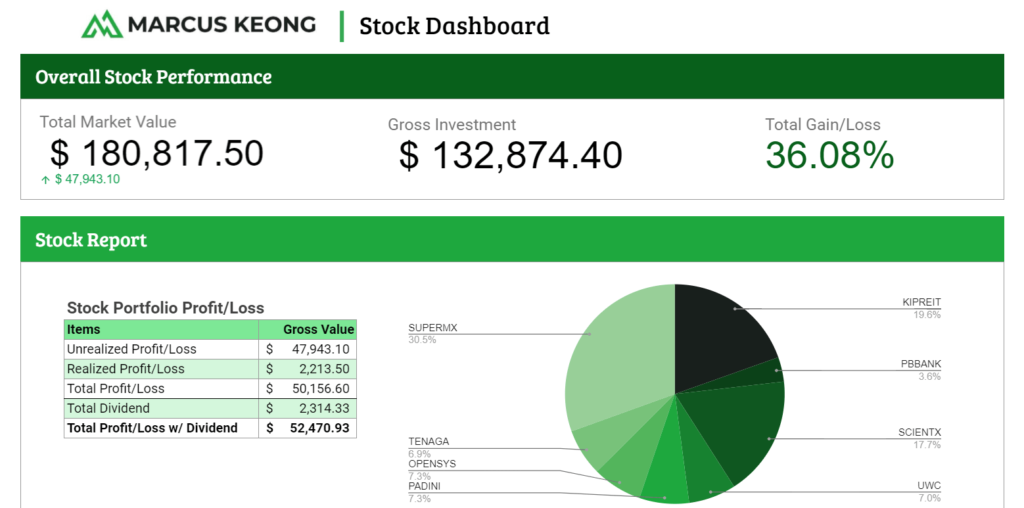 During my blog's first anniversary, I shared my highly customized stock dashboard as a giveaway to my blog readers. Use this stock dashboard to track and visualize your stock performance.
To get my stock dashboard spreadsheet link, subscribe to my blog newsletter and it will be sent to you via the welcome email.
Marcus's Expenses Tracker
This expense tracker is not only used to track your expenses but is also packed with informative charts that visualize your financial status in one glance.
I hope this spreadsheet can motivate you to track your expenses and improve your finance.
Stock Analysis Spreadsheet
In my article "How to Read Financial Statements as a Stock Investor", I promise to share my stock analysis spreadsheet. You just need to key in a company's financial data, and it will auto-generate visually stunning graphs for you.