Read Time: 4 minutes 35 seconds
Yesterday I had a chat with the salon aunty.
We talked about a pilot who was unable to work during the MCO period and ended up selling chickens to earn money.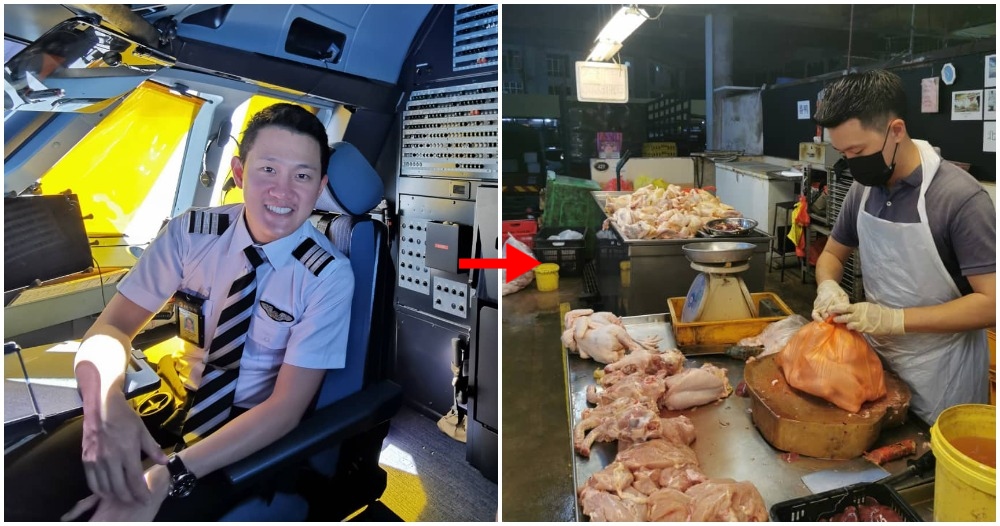 Source: World of Buzz
That news reminds me that there is a risk of losing a job when we work for a salary.
So what should we do?
Diversifying our incomes may be a good idea to create a safety net for our incomes.
3 reasons why we should diversify our income sources:
Risk mitigation during unexpected events
Grow our earnings and increase our savings
Flexibility to change career path
In this week's newsletter, I will share 5 income source ideas that you can consider to create apart from your 8-to-5 job.
Let's dive in.
1/ Affiliate
Affiliate income is one of my favorite ways to diversify our income.
For those who don't understand what an affiliate is, it means you have an official connection with a product/service owner.
You'll receive a commission when you successfully refer or help them to sell a product or service to others.
The pros of this income source are it is
Low effort as we are selling other people's product/service
Flexible as there is no expectation for us to hit a certain target
Easy to implement as we only need to share the links with others
But the challenges lie in building an affiliate income are
Having a group of people (audience) that trust you
Able to provide value or information about the affiliate
Consistently provide value to your audience so they are willing to use your affiliate link
But if you are active in social media and have a good amount of followers, this income source is worth considering.
2/ Advertising
There are many platforms that we can easily earn ads income from. The most popular one is becoming a Youtuber and earning from Youtube Monetization (via Google Adsense).
Another way is to host a blog and put ads on your articles and pages to earn ad income. This will require more effort as you need to set up the hosting, domain and theme of your blog.
Now we can also earn ad income from platform X (formerly Twitter), but it requires us to subscribe for Twitter Blue. (RM369 per year)
Compared with affiliate, advertising income has a lower entry bar as it doesn't require someone to buy a product or service. What we need is attention to our content.
The drawbacks are the incomes are usually low and very inconsistent. It is normal to earn RM500 last month, but RM200 this month.
It is a good-to-have income, but not a wise idea to only rely on this income source.
Here's a sneak peek on my ad income from X this month: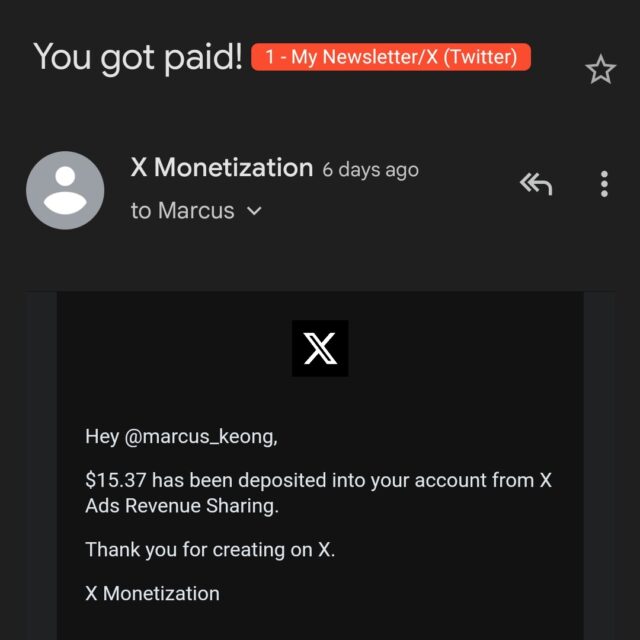 3/ Your Own Product
While I am referring to both physical and digital products, I will suggest you consider creating a digital product if you don't have any idea which product to build yet.
You may think of an e-book or online video course when talking about digital products.
But there are other digital products that you may not think of, such as:
Spreadsheet template (e.g. expense tracker)
Printables (Calendar, checklists, guides)
Photographs/Graphics/Arts
WordPress Themes
Recipes/cookbook
Music/Audio
Software
Fonts
Why create a digital product instead of a physical product?
Because it requires low to zero cost and is easy to scale (sell to many), thanks to the Internet.
As long as your digital product is valuable, you can earn some income by selling it. No stock limit. The limit is your creativity on how many products you can create.
Similar to affiliate, having an audience (or targeted group) will help you to earn more income from selling digital products.
Currently, I am working to create my first digital product.
4/ Freelance Service
There are many types of service you can provide to earn side incomes, such as:
Online tutor
Translating service
Web design service
Coaching service (fitness, finance)
Maintenance service (phone, laptop or car)
Good thing about earning an income via freelancing is you can start it right away (unlike selling a product) and earn a decent income if you can find clients on a monthly basis.
The drawback is to acquire the knowledge and skills related to the service you provided.
One tip from me, understand what is your strength (e.g. you're good at math) or professional skills (most probably your current 8-to-5 job). Then package that knowledge into a service, and then sell it out.
5/ Investment Returns
"You thought this was another active side income, but it was me, passive income."
There's a saying "don't leave money on the table", or under your pillow. Let your money work and create an income source for you.
But how? By buying assets that give you passive income.
There are 3 easy passive incomes you can create:
Interests
Dividends
Rentals
Any difference between interests and dividends?
Interests come from banks (for borrowing your money).
Dividends come from stock investments (profit sharing from the company you invested).
Compared to other 4 income sources, this is the easiest one to build as it only requires you to buy the right assets and you'll be collecting the money every month or year.
The drawback? Yes, it's money.
You need money to earn money from this income source.
Personally, I have the first two as my passive income sources, as they are easier to start and don't need to borrow any money to buy the investments.
Related Article: 7 DIY Investment Options for Malaysians
In Summary
Diversifying income sources is never easy. It requires time and effort (and money for investment) to build them.
But if you are looking to increase your income or build more safety net for your finances, spending your free time and effort to build multiple income streams can be a worthy endeavor.
I hope this article will give you some tips and ideas on increasing your incomes from a different source.
That's all for this week, my friend!
Talk with you again next week.
Your Money Buddy,
Marcus
---
Whenever you're ready, there are 2 ways I can help you:
1) Book a ​1-to-1 Call Session​ with me to pick my brain, whether it is about investing, money management, or any topic you're interested to learn
2) If you're not sure which platform to invest your money, here are 3 platforms that I personally use:
→ Rakuten Trade – Where I invest in US index fund ETFs. Get RM22.88 worth of RT points if you register & unlock foreign trading with my referral link.
→ Wahed Invest – Where I invest in Shariah-compliant US ETF. Get free RM10 if you register a new account with my referral code "markeo1"
→ Versa – Where I invest my emergency fund for a 4.3% return (up to RM30k). Get free RM10 if you register a new account with my referral code "AL9JZJ9H"