Read Time: 3.5 minutes
This Week's Money Tip: Everything You Need to Know About S&P 500
Disclaimer: I am not a licensed financial advisor. This article is shared with education purposes and it is not financial advice. Please always do your own due diligence before investing your money.
---
There is one investment that Warren Buffett always recommends to most people. It requires almost no effort to manage it, able to fit in any portfolio or become the only one investment we need.
In 2008, he even bet with $1 million that this investment will beat 5 actively managed funds over 10 years .
This investment is known as the S&P 500 index fund.
Today I will share with you everything you need to know about S&P 500, in a Malaysian context.
What is S&P 500
S&P 500 stands for Standard & Poor's 500.
It is a stock market index that tracks 500 publicly traded US companies. This index has high standards as it tracks some of the largest and outstanding US companies such as Apple and Google.
In the US, it is often labeled as "the market" because it represents best on the overall measurement of US market performance.
"Beat the market" means your investment performs better than the S&P 500 index. This may sound cool, but why the need to beat the market if you can simply buy the market?
Investing in an S&P 500 index fund ETF allows us to buy "the market" and get the exact performance of the S&P 500 index.
Performance of S&P 500
How good is the performance of the S&P 500 index?
In other words, how good is the overall performance of the top 500 US companies?
Let us take a look at the historical return for S&P 500 in the last decade: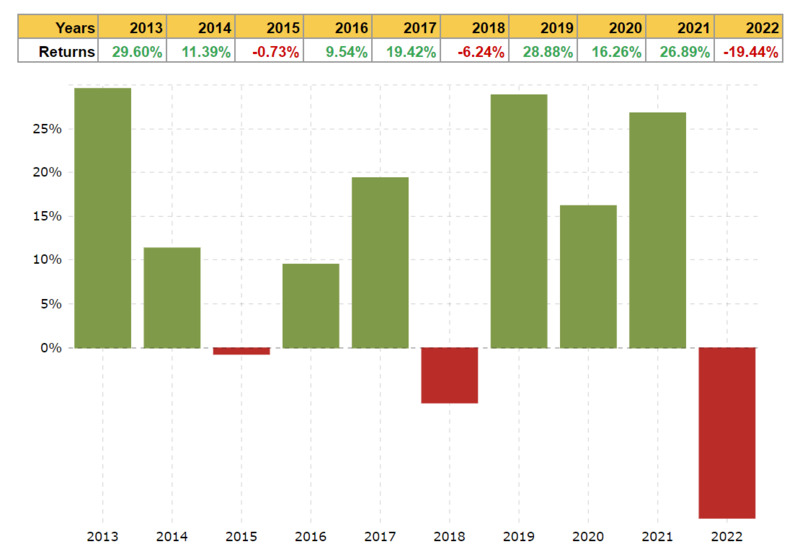 Source: S&P 500 Historical Annual Returns
The average return of S&P 500 from 2013 to 2022 is around 12.40%. Pretty impressive I must say if we compare it to our EPF performance.
But the caveat is, you have to keep invested even during the bad markets. From 2013 to 2022, there are 3 years that give you negative returns.
If you're thinking "Well easy, I just sell all during the bad market and buy back during the good market", let me ask you, what do you think of this year's market? Is it good or bad?
No one can predict the market. If you spend time predicting the market and keep buying and selling your investment, there's a chance you miss out on the good market and get in during the bad market.
Hence it is always wiser to stay invested for the long term. As the quote says, "time in the market beats timing the market".
How to Invest in S&P 500
There are 2 ways every Malaysian can invest in S&P 500:
1) Brokerage account
You can easily buy an S&P 500 index fund ETF using a brokerage account with the US market access. Here is a list of index fund ETFs that track S&P 500 index:
VOO, by Vanguard
IVV, by iShares Core
SPLG, by SPDR
SPY, by SPDR
Rakuten Trade will be the best choice for Malaysians as it is being regulated by Malaysian Security Commission (SC). Check out how to register an account in my article below:
Beginner's Guide: How to Register a Rakuten Trade Account
You may try other brokerages such as Interactive Broker or TD Ameritrade, but note that they are not regulated by Malaysian SC. When you have issues with these companies, our local regulator can't help you out.
2) Robo-advisor
For robo-advisors, only StashAway and Akru Now have the portfolio with S&P 500 ETFs. I recommend StashAway as it is more established and accessible.
Here's how you can invest in S&P 500 with StashAway:
Choose flexible portfolio
Choose IVV (S&P 500 ETF)
Set it as 99% (the max)
Next and continue all the way, and you have an S&P 500 portfolio ready to invest.
For more details, check out my Twitter thread below:
Is S&P 500 Shariah-compliant?
Nope. But there is another alternative for S&P 500: HLAL, Wahed FTSE USA Shariah ETF.
HLAL includes companies in the S&P 500 that are Shariah-compliant, such as Apple & Tesla, and excludes those non-Shariah companies.
In your brokerage account, just search the symbol HLAL and buy it.
For robo-advisors, only Wahed Invest has the portfolio with HLAL. Just choose its US Stock portfolio and you can invest in HLAL.
Step-by-step Guide: How to Open a Wahed Invest Account
Verdict
S&P 500 (or HLAL) is a great investment for many, especially beginners and investors that don't want to spend too much time doing investment research.
The benefits of investing in it, which I can think of, are:
Diversified across 500 large-cap US stocks
Annualized return of 10-12% in the last 10 years
Top 500 stocks will be auto-updated
Invest in one fund only, simple to execute
Should you invest in this or not, I will pass the decision making to you.
Talk with you again next week.
Your Money Buddy,
Marcus
---
Whenever you're ready, there are 2 ways I can help you:
1) Book a 1:1 Call Session with me if you want to pick my brain, be it finance or any topic you would like to learn from me.
2) If you're not sure which platform to invest your money, here are 3 platforms that I personally use:
→ Rakuten Trade – The only brokerage account I'm currently using now to invest in US index funds and Malaysian stocks. Get RM30 worth of RT points if you register & unlock foreign trading with my referral link.
→ Wahed Invest – The robo-advisor I use to invest in Shariah-compliant US Stocks, mainly HLAL ETF. Get free RM10 if you register a new account with my referral code "markeo1"
→ Versa – My favorite place to save my emergency fund which offers 4% return (until June 2023). Get free RM10 if you register a new account with my referral code "AL9JZJ9H"