When I start investing in stocks, I have tried out all the stock investment apps in Google Playstore. After invest for more than a year, I have figured out several stock investment apps that are helpful for me.
So if you are interested to invest in Malaysia, here are the 3 stock investment apps that will guide you better. They will provide necessary information about Malaysian stocks and help you to invest better.
KLSE Screener (Bursa)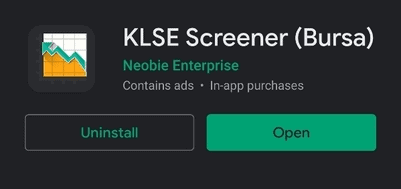 KLSE Screener App is the must-have application when you invest in Malaysia. Why? Literally, this app has almost all the features you need:
Customize your personal watchlist.
Stock screener for Malaysian stocks.
Real-time price change of Malaysian stocks.
Access to the financial reports of Malaysian stocks.
Price charts, financial figures and summary of Malaysian stocks.
Latest news and announcements of dividends or capital change.
Create your own stock portfolio with daily and summarized gain/loss.
Login with Google Account for Synchronization
To start, you just need to log in with your Google Account (1) to sync with your saved watchlists and portfolio. Next, you can navigate in this app via the menu at the bottom of the application. You can check the whole market index by tapping on the "Market" icon (2).
Alternately, you can search for stocks in "Search" icon and start create your own watchlist via "Watch" icon (3).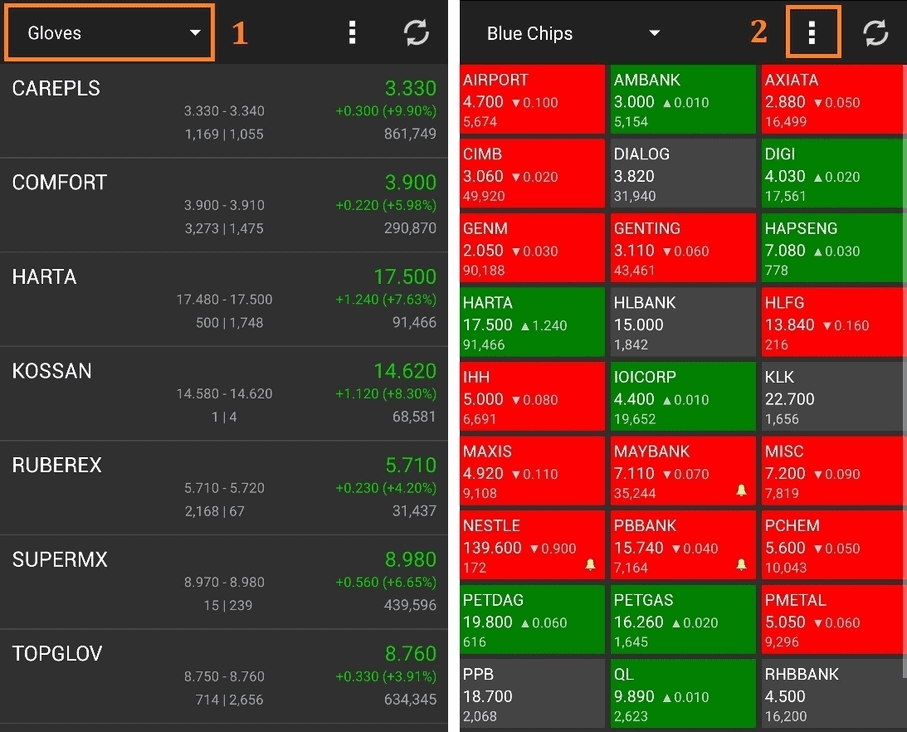 If you are using this app for the first time, the watchlist will be empty. Hence you need to manually create one, just like what I created for the Glove stocks (1) and Blue Chip stocks in the image above. Besides that, you can change the view by tapping on the 3 dots (2) as shown in the image above.
The first view at the left provides more details such as the % of its daily gain/loss and buy/sell order queue. The second view is better when we have a huge list of stocks and not to mention, quite cool. It shows green, red and grey colors like a heat map representing the stock's daily gain or loss.
Fundamental Details & Financial Reports of a Stock
If you tap on a stock, you can check the fundamental ratios of the stock (1) as shown in the image above. There are earning per share, price over earning ratio, not-tangible asset, return on equity, dividend per share, dividend yield and more.
When you swipe left or tap on the "Reports" tab (2), you can see the company quarter and annual revenues and profits. By tapping on one of the results (3), you can open up the quarterly report or annual report (if available) of the company.
Here are the links for you to download this app:
Read More: A Comprehensive Guide on How to Use KLSE Screener App
Malaysia Stock Calculator
Are you someone who wants to know how much fees incur for every stock transaction? If yes, then I have just the right app for you.
Malaysia Stock Calculator is a very helpful app for me when I started my investing journey. As a nerd or a maximizer, I enjoy being calculative and want to check how much fees I paid for my stock transaction.
Fortunately, this app has all the Malaysian brokerage fee rates that allow me to calculate the exact fees for the share price and the number of shares I want to buy.
Frankly, this app is just a simple calculator to count the transaction fees. First, choose the broker you are using at the "Broker" dropdown list (1). Next, key in your buying price, the number of shares and selling price.
One thing that bothers me is we always need to key in the selling price to check the transaction fees. For me, I will key in a random selling price to check the incur fee of buying a stock. When you are done, tap on the calculator icon and you will see the total price after adding up the fees (2).
On top of that, you may choose intraday (buy and sell on the same day), stamp duty, or a clearing fee waiver. Some Malaysian stocks do have stamp duty waived. I will cover this topic after I explored more about it.
Here are the links for you to download this app: Google Play
Bursa Anywhere
Bursa Anywhere is one of the useful stock investment apps you need if you are a Malaysian investor. Not only it provides some informative charts for your stocks, but it also allows new investors to register a CDS account.
The first image above is the welcome interface for Bursa Anywhere. To register an account, you need your IC and bank e-statement for approval. After you registered, your CDS account will be automatically tied with your Bursa Anywhere account via your IC. Then you can log in and check the total market value of your stocks at the Home page (1).
On Stock View (1), you'll find the total units and market prices of your stocks. While on Chart View (2), you can find doughnut charts based on different attributes of your stocks. Those attributes include brokers, individual stocks, sectors, shariah/non-shariah and main/ace market.
There are several services we can perform under "My Services" tab (1). Those actions include securities transfer (stocks) and e-dividend subscription. We can also find monthly consolidated e-statement (2) if we have more than 1 brokerage account under Bursa Malaysia.
Other than directly opening a CDS account, Bursa Anywhere is just an app with pie charts and statements. Despite that, I still keep it on my phone as it is easy for me to access my monthly E-Statement.
Here are the links for you to download this app:
Disclaimer:
This article is by no mean a buy or sell recommendation on any stock. As usual, please do your own due diligence before investing your hard-earned money.
Summary
In summary, these are the 3 stock investment apps that are helpful for my investing journey.
KLSE Screener (Bursa)
Malaysia Stock Calculator
Bursa Anywhere
For your info, I did not include the app of the broker as everyone is using different brokers. In essence, these apps suppose to provide us useful information about stocks so we can make better decisions.
Blog Update & Social Media
If you like this article, then you may like my other articles as well. If that so, feel free to subscribe to my newsletter so you can get the latest update from me when I posted a new article. 🙂
[mc4wp_form id="236″]
Also, you can also get my new blog post updates by following my social media below. Don't be shy and feel free to interact with me as well. See you there!