StashAway is the first robo-advisor that entered the Malaysia market since 2018. With the introduction of robo-advisor, we now have another option for passive investing other than unit trusts, but with lower fee.
After using StashAway for more than 9 months, I would like to write an honest review about it. Hopefully you guys can know more about StashAway from this review and decide whether to include it in your investing journey.
What is StashAway
Before I explained about StashAway, let me talk a little bit about robo-advisor.
In old days, we put our money into a fund managed by a financial advisor or fund manager, so they can help us to invest. But today, we now have a "robot" that is known as artificial intelligence (AI). It will replace the fund manager and helps us to allocate our money into different assets and maximize our investment returns. This AI-fund manager is what we called a robo-advisor.
By investing in StashAway, our money will be invested into a basket of ETF (Exchange-Traded Fund) by its AI algorithm. Before that, StashAway will provide us with an option to choose our risk index. Each risk index will determine a specific asset allocation. (I will explain more about risk index later)
What I Like About StashAway
Seamless User Interface
My first impression on the StashAway app was very good when I first opened it. It is built with smooth user interfaces and interactive functions, making my app exploration enjoyable. To be frank, design quality is an important factor to garner trust from users.
My skepticism is reduced by half with the seamless experience from the StashAway app. Another half of it will be depending on how their investing works, and that brings us to the second point.
Transparent Disclosures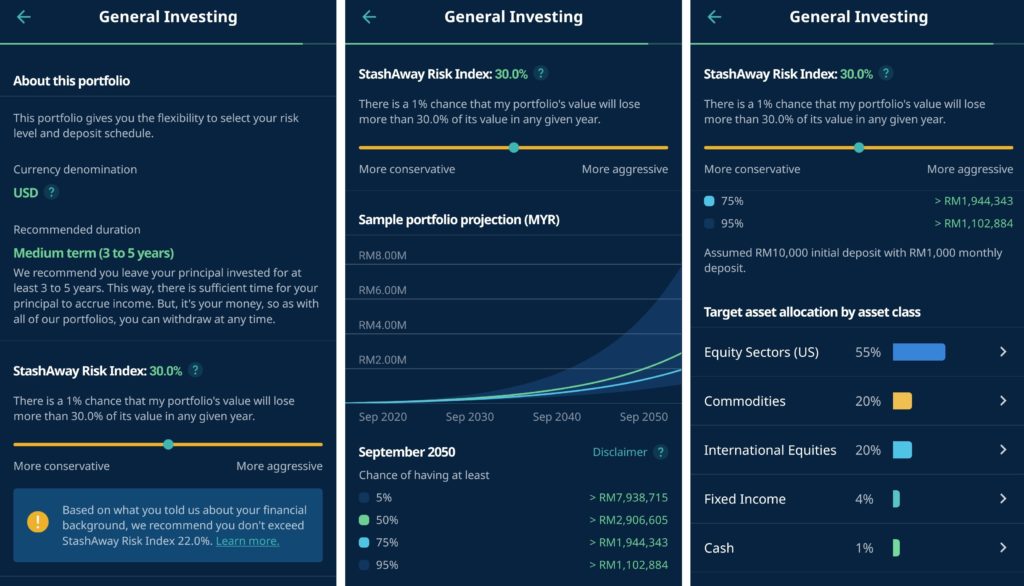 I like how transparent they are on their asset allocations. By tapping on each asset class, you can check the exact fund they will invest in. Besides that, there are also several portfolio projections on our investment. The illustration of the graph and numbers clearly show me what to expect when I invest my money.
Another thing I like about them is they highlighted the recommended duration. It is always good to invest for the long term because stock market is a volatile place. No one can never predict what happen in a month or in a year. Cash in cash out within a short period of time might make you lose money, depend on how the market performs.
Start Invest with Only RM1
What is the minimum we need to invest in a basket of stocks from different countries? Well, just RM1.
With that, StashAway literally eligible with this tagline, "Now Everyone Can Invest."
With direct debit from bank accounts, you can easily invest your money into StashAway. However, we cannot use any credit cards, debit cards or e-Wallet to transfer money in. Sorry for popping your bubble of getting some cashbacks from these transactions.
Anyway, now you will have no more excuse to say "I do not have enough money to invest".
Automated Recurring Deposits
I started investing as a DIY investor. Opening my own brokerage account, select my own stocks, invest with my preferable amounts. I have to do all these by myself.
But with StashAway, I can automate my investing by setting up recurring deposits with direct debit from my bank account. With passive investing, it helps to save my time from managing it. Therefore StashAway is a great choice for me to expose my money in foreign market, while giving me time to focus on my Malaysian individual stocks.
Other than bank accounts, we also can set a scheduled transfer from StashAway Simple. Of course, this is given that we have money in the Simple account.
Multiple Portfolios
In StashAway, you can create as many portfolios as you want. (Not sure if they have a limit though)
Why would you want to create so many portfolios? Well, this feature will be very helpful when you want to separate your retirement fund and your children's education fund. Of course, it is up to your preference and creativity. You can also create one portfolio for each of your children.
Moreover, you can also have different risk indexes in each portfolio.
How risk index works?
The percentage of risk index is equivalent to the lowest point your portfolio will drop to. For instance, if you choose a 36% risk index, it means your portfolio will have a 1% chance to drop 36%, which is pretty scary. So if your emotion cannot handle it, be sure to adjust your risk index according to your risk appetite.
Usually, I would put a higher risk index on a fund that I would invest for very long, like 30 or 40 years. That means even my portfolio drops like 20% or 30%, I still have many years to hold it and let it recover.
Auto Optimization
Another thing I like about StashAway is they will reassess our portfolio asset allocation from time to time. When time passes, global economic conditions will always be changing. So our investment strategy should follow suit as well.
The recent optimization they have done is by decreasing USD exposure and starts to include the China Technology sector into the portfolio. As we have seen the US government keeps printing money to save their stock markets from going downhill, the USD value will surely be impacted.
I would say the move by StashAway is very logical and rational. Hence, I fully support their auto-optimization feature and opt for it. Oh, I forgot to mention that you have the option to choose not to opt for auto-optimization. So don't worry, you're still in charge!
What Can Be Improved
A Shariah-Compliant Portfolio
While I'm not a Muslim myself and don't have to stick with Shariah-compliant stocks, I still wish that all Malaysians are able to use StashAway. With that, our Muslim friends have one more robo-advisor option to choose from. Moreover, who will say no to a wider base of users?
Though StashAway Simple is Shariah-compliant, other equity-bond based portfolios are not. It is a shame that I can't share this app with my Muslim friends. Hopefully, the StashAway team already has a plan to create Shariah-Compliant portfolios for Malaysian users.
Better Transparency on Currency Rate
Most StashAway portfolios are invested with USD. However, we do not have enough visibility on the conversion rate of USD and MYR.
The thing is, when there is a big change in the conversion rate, the portfolio return can be drastically different between USD and MYR.
Here's an example of my own portfolio:
By default, our portfolio is shown in MYR. While my portfolio is having a negative return in MYR, it is actually profitable in USD. This is due to a sharp drop in the USD/MYR conversion rate within this 3 months.
If I did not switch between MYR and USD, I wouldn't know that my portfolio is actually not in a loss in USD. Hence, I wish that StashAway can provide better transparency on the currency rate change and enhance our user experience.
Management Fees Comparison
There is already a fee comparison between 3 robo-advisors in Malaysia by No Money Lah. So it is pointless for me to copy and paste it here. But I would like to highlight the fee difference between StashAway and Wahed Invest, another robo-advisor which has a fee that 0.01% lower than StashAway on the minimum deposit.
Before we dive into the details, let us glance through the fees of these robo-advisors.
The fee calculation for Wahed Invest is pretty straight forward. 0.79% fee if your investment is lower than RM500K, and 0.39% fee if RM500K and higher.
While for StashAway fee calculation, it is a bit complicated than Wahed Invest. Their fees are separated by 7 tiers with different fee rates and they are calculated in stacks. For instance, your RM100K investment will not be charged by 0.7% fees, but rather 0.8% fees on your RM50K and 0.7% fees on another RM50K.
Even a person who good at math can hardly imagine their fee differences. So I have drawn some graphs of the fee rate comparison between StashAway and Wahed Invest. Hopefully, they will help you to visualize the fee differences better.
Investment with Less Than RM100,000
As you can see, Wahed Invest starts off cheaper than StashAway. But when it reaches RM55,556, the fees of both robo-advisor breakeven. More than that amount, the fee of StashAway starts to lower than Wahed Invest.
In short, if you have a capital with less than RM50K, you will get charged lesser fee if you invest with Wahed Invest. But when you have more than that, StashAway beats Wahed Invest in their fees.
But wait, Wahed Invest has a lower fee from RM500K onward right? Let us extend our graph to larger capital.
Investment with More Than RM100,000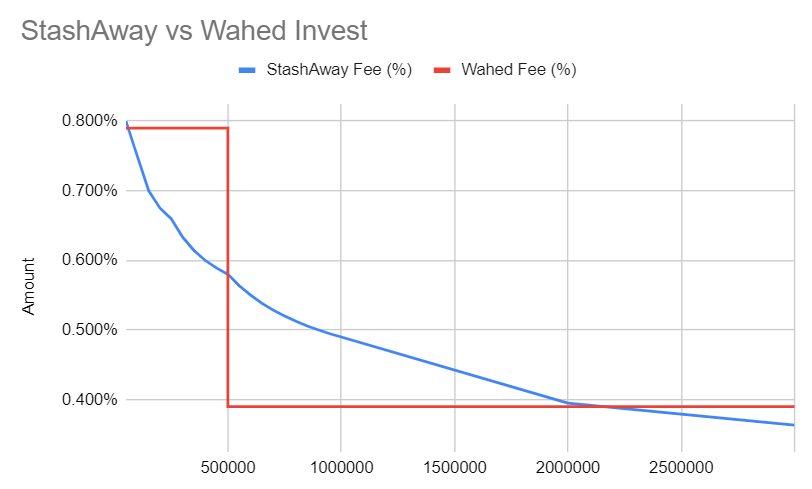 So this is how the graph looks like when it extends to RM3 millions. Wahed Invest's fee suddenly become a lot lower than StashAway starting from RM500K. With 0.39% fee, it punches StashAway back to the sky again.
When you are getting richer, your capital in StashAway needs to exceed more than RM2 millions in order to breakeven with Wahed Invest.
Which Robo-advisor Wins?
So what's the conclusion? Which robo-advisor is better?
I would say we cannot just judge a robo-advisor by its fees. There are other factors like long term performance, customer support quality, and features like recurring deposits.
Let's get back to the fee comparison. Here is a quick summary of the result:
Interestingly, there is a winner in every range of capital invested. But please, take this reference as a pinch of salt. I definitely not telling you to shift all your capital from Wahed Invest to StashAway when your capital hits more than RM55,562. I would say this is just a piece of interesting information about the robo-advisors fees.
As a nerd myself, I have even created a fee calculator for StashAway and Wahed Invest. I hope it will help you to calculate the incurred robo-advisor fee on your capital invested.
The Fund Performance
Behold, the most exciting part of the review.
Personally I have two type of portfolio: 36% risk index and 6.5% risk index.
My International Portfolio – 36% Risk Index
I started investing in StashAway with a portfolio of the highest risk index – 36%. However, I only start to automate my monthly deposit from May 2020.
In hindsight, I should apply DCA (Dollar Cost Averaging) on my StashAway fund from the start. But since I'm still skeptical, I was still figuring things out in the beginning.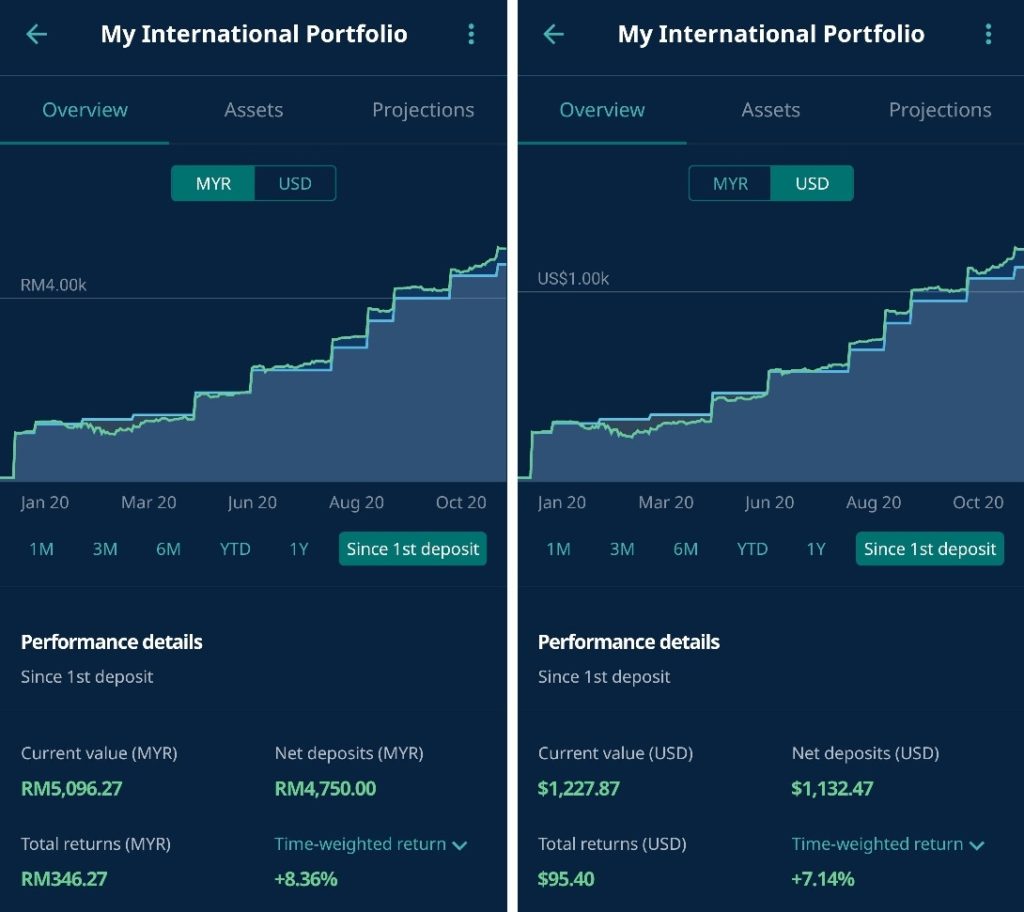 So far I'm satisfied with the return of 8~10% over time. Furthermore, I have changed my recurring deposit into once in two weeks. Got to maximize DCA effect in this 3 months as I am expecting a volatile market during US election.
Update on 16 Feb 2021
Till today, my investment portfolio (36% RI) has gained around 20% returns (from total invested), which is superb! This is due to the China-Tech ETF allocation has been giving more than 100% return since inception.
My US Portfolio – 30% Risk Index
I created this new portfolio to expose more of my fund to US equities. The difference between this portfolio and the 36% risk index portfolio is the US equity sector exposure.
30% RI has 55% allocation in US equity sectors, while 36% RI has only 39% and has more international exposure, specifically China-Tech.
Overall, this portfolio also performs very well with around 5% returns (from total invested) just within 4 months. This mainly due to the US market has been very bullish in 2021.
My Bond Portfolio – 6.5% Risk Index
In August, I was looking for diversification into bond assets. Hence I created this second portfolio that have most of the fund in bonds.
Honestly, I am a little bit of regret creating that bond portfolio. Still, I will keep them invested for at least a year and see how it goes.
Updated on 16 Feb 2021:
I have liquidated all my bond portfolio in November 2020. This is not a good choice if you want to invest in bonds. I rather invest in bond funds or individual bond ETF available in Bursa.
Disclaimer:
Everyone's risk appetite is different. The highest risk index might have a great return, but you might not be able to withstand the sharp dive. Hence, please do your own due diligence if you are still new to investing.
Summary
In the nutshell, StashAway is not only a great investing tool for beginners but also helpful for seasoned investors. Its nature of passive investing helps many investors to invest in auto-pilot mode.
In my case, these are the reasons why I like it so much:
Seamless User Interface
Transparent Disclosures
Start Invest with Only RM1
Automated Recurring Deposits
Multiple Portfolios
Auto Optimization
While I'm happy with it, I also wish that it can be improved by adding up Shariah-compliant portfolios and better transparency of currency rate. This will lead to a wider user base and a better user experience.
If you find this review helpful and interested to sign up for a StashAway account, feel free to use my referral code. By using it, both you and I will get up to RM30,000 managed for free for 6 months.
Blog Update & Social Media
If you like this article, then you may like my other articles as well. If that so, feel free to subscribe to my newsletter so you can get the latest update from me when I posted a new article. 🙂
[mc4wp_form id="236″]
Also, you can also get my new blog post updates by following my social media below. Don't be shy and feel free to interact with me as well. See you there!