This article might not be related to any personal finance or stock investing. But then I decide to share my personal experience with it as I am currently in 14-days quarantine in Malaysia. I hope this article will help out those who plan to come back to Malaysia from overseas.
Furthermore, this article might be a once-in-a-lifetime memory for me. I hope something like this won't happen again in the future. We all don't want to have another pandemic like Covid-19, right? It's just terrifying!
The Story Behind 14-days Quarantine in Malaysia
Since 2018, my wife and I have been working in Singapore. My wife obtained Singapore Permanent Residence (SPR) pass while I am still on Employment Pass (EP).
Then something happened in 2020. Covid-19 pandemic has caused a big stir in the whole world, including Malaysia and Singapore.
On 18 March 2020, Malaysia decides to implement the Movement Control Order (MCO), which I think is just another fancy word for lockdown. This affected many Malaysians who work in Singapore. Those who daily commute between Malaysia and Singapore border could no longer do so. In other words, the border has closed down.
For Malaysians in Singapore who decide to go back to their home country, they have to undergo a 14-days quarantine in Malaysia at designated accommodations. Meanwhile, the government has stopped providing free quarantine accommodations starting on 1 June 2020.
There are also different procedures for Malaysians with SPR, Work Permit, or visit pass. In my case, my wife (with SPR) and I (with visit pass) go through the same procedure as I have resigned from the job in Singapore.
So if you are using Reciprocal Green Lane (RGL) or Periodic Commuting Arrangement (PCA) to cross the Malaysian-Singapore border, then our experience might be different for you.
Prerequisite For Travelling from Singapore to Malaysia
Before we travel from Singapore to Malaysia, there are several items that we need to prepare.
Install & Register MySejahtera App
If you are staying in Singapore during Covid-19 pandemic, you will be familiar with scanning QR code when enter or exit a shop or mall. Similarly, MySejahtera app is used to check in via QR code in Malaysia.
Upon install the app, make sure you register an account. Then you will be required to fill in a survey after you have successfully registered an account. Completed all these will make your journey a lot easier when you reach Malaysia.
Mobile Data in Malaysia
You need an Internet connection to use MySejahtera App. So please prepare a Malaysian SIM card with mobile data. Alternatively, you can apply data roaming from your Singapore or overseas Telcos.
Letter of Undertaking (LoU)
This is an agreement letter that we undertake to pay for the expenses of our quarantine accommodation, swab test and blood test. Other than that, it also includes the representative person for us who they can contact in case of an emergency.
There is also a page where we can fill in the child or person under our care. In my case, I wrote my wife name under this page, while she doesn't need to fill in any.
Please print out this document as we need to show our LoU in Malaysia in almost all the stages.
Identity Documents
This includes passport, Malaysian IC, Singapore IC (For PR and WP) or short term visit pass. They don't need any photocopy of these documents. As we did have a photocopy of each document but end up never use it.
How About MyPass and Travel Note
Before October, I heard that we need a travel note approved by Malaysia High Commission in Singapore. But now we no longer need this document.
I did submit MyPass and print out a travel note from the email, but no one requested for this document. In short, MyPass and travel note are no longer needed to go back Malaysia.
Itinerary from Singapore to Malaysia
We have seen some people having to wait for the swab test until it postponed to the next morning. Moreover, our planned travel date falls on Saturday. In order to avoid that scenario, we woke up very early at 5.30 am. After breakfast and packing stuff, we departed at 7 AM.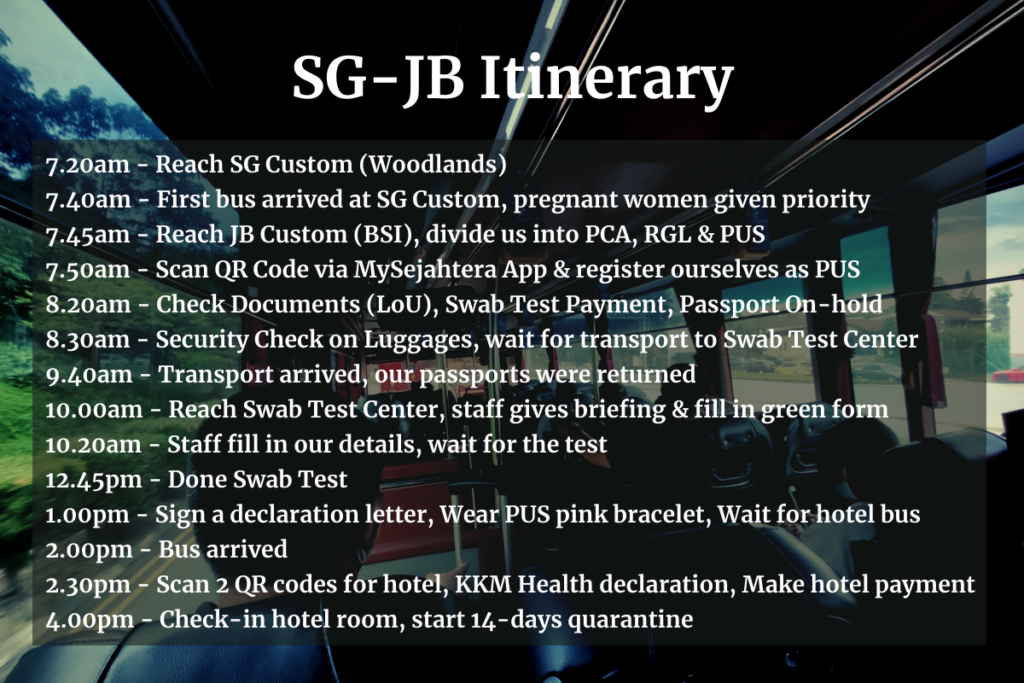 Woodlands Immigration Checkpoint
As we stay around Marsiling, so it's natural for us to go to Woodlands Checkpoint, the nearest checkpoint. Our bus comes at the same time when we reached the bus stop, so the journey is pretty smooth for us.
We reached Woodlands Train Checkpoint at 7.15 AM. This is the shortest way to slowly walk to the Woodlands Custom.
At 7.20 AM, we arrived at the checkpoint. There were auxiliary officers who help to scan our documents and guide us through the custom. We were then arranged to use manual lanes for passport verification. As the lanes were empty, we passed through it pretty quickly and already waiting for the bus downstairs (according to the schedule, it will arrive at 7.45 AM).
There's no need to worry about having no seat for seniors and pregnant women. There were many seats provided at the bus stop.
Unexpectedly, the bus arrived at 7.40 AM. The officers are kind enough to give priority to pregnant women and their guardians (which is me *wink*). So we were considered lucky to take the first bus to cross over the bridge.
Johor Bahru Immigration Checkpoint
At 7.45 AM, we reached BSI (Bangunan Sultan Iskandar), the Johor Bahru immigration checkpoint. There is an auxiliary officer who split us into 2 groups. The first group is for those with PCA and RGL, and another group is for the rest. We belonged to the second group which is known as PUS.
There will be many counters waiting for you at the JB checkpoint. The officer from the first counter required us to scan a QR code with our MySejahtera app. Please be aware that there were different QR codes out there. In our case, we scanned the QR code for PUS (Person Under Surveillance).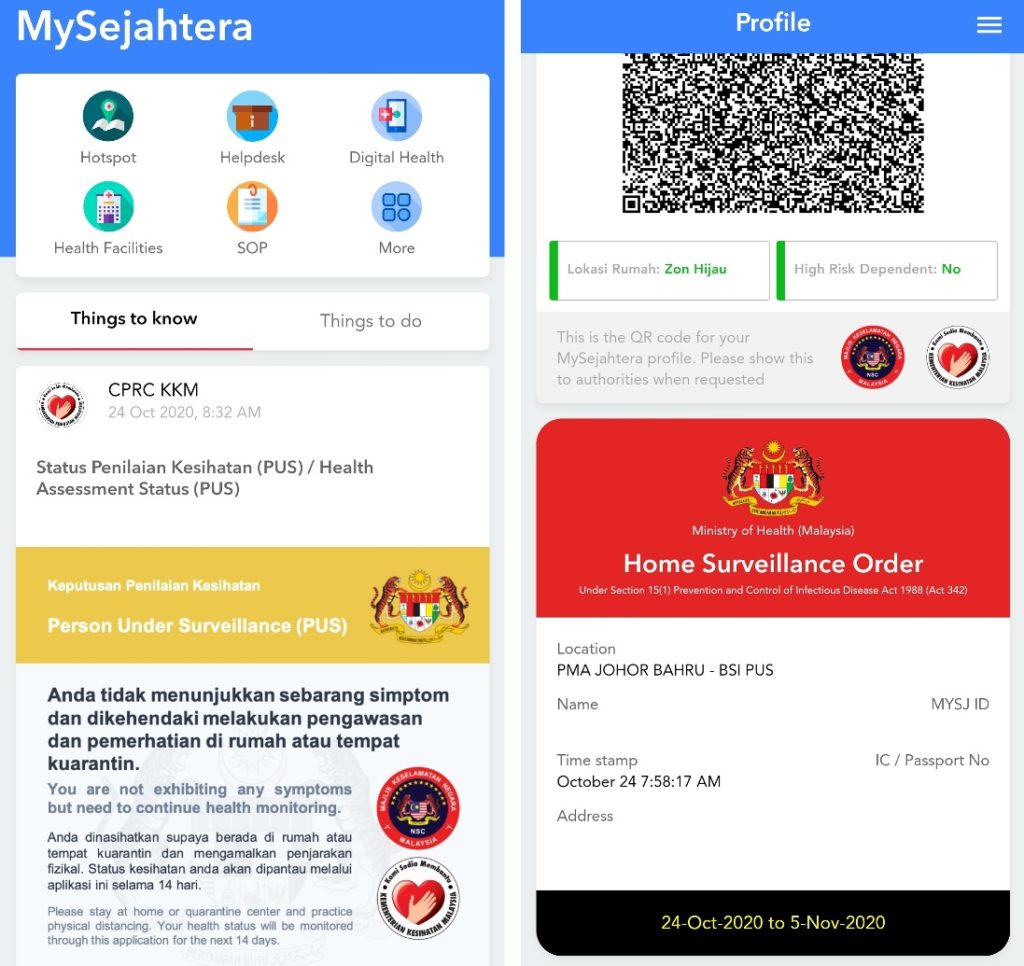 After scanned, we filled in details of us via the app and our status will change to PUS. The officer helped us to fill up our details into a white health card. We just need to hand over our passport and phones with MySejahtera app opened.
Then we proceed to the second counter to verify our white health card. At the third counter, there will be a notice with the required documents and the total payment needed for the swab test.
Here, we just need to provide the listed item to the officer and make payment for the swab test. Upon payment, the officer reminded us to do the health survey every day in the MySejahtera app.
On this stage, our passports will be held by them until we are going to depart to the swab test center. We did receive our passport back, so don't panic ya!
Proceed to the fourth counter, the officers performed a security check on our luggage. After that, we just sit and wait for the bus that departs to the swab test center. There are 10 chairs available only while waiting for the bus.
The bus arrived just around 9.40 am, and the officer returned all passports to us before we go onto the bus. At that time, there were just 16 people on the bus to the swab test center.
Swab Test Center
We arrived at the swab test center at 10 am. The KKM staff briefed us on things we need to know about the whole process of the swab test. Later they distributed a green form to each of us with a number on the corner.
A quick tip. The number will be called in ascending order. So if you are number 1, you will be the first one to go for the swab test.
Please note that we cannot take any photos at this place. Hence I do not have any related photos for this section. But I try my best to put one for the sake of your eyes. 🙂
Before queueing for the swab test, the KKM staff record our details from our MySejahtera app. So ensure you have a working Internet connection on your phone.
Meanwhile, pregnant women and people with doctor letters (with high blood pressure, heart disease) will be called to have an extra test before the swab test.
Because there were people who haven't do swab tests since yesterday, they were given priority first. So we end up queueing for more than 2 hours. If you are a pregnant woman or a senior, you don't have to worry about standing all day as seats are provided for us.
Luckily, we have brought some bread and snacks with us. So prepare some foods when you cross the border. It is okay if you did not prepare any food, they allow us to order for food delivery such as Food Panda.
Please don't ask me why they took so long for the swab test. What I can see was these volunteers did not rest at all and have been standing there doing swab tests for a few hours. Salute to them for their unwavering spirit!
My Swab Test Experience
Many of my friends were curious how the swab test is done and how do we felt after tested. So here's my sharing:
They will use the same straw/tube to collect fluid from our nasal and throat. The sequence will be left nostril, right nostril and the throat.
Will it pain? For me, nope. It was just very ticklish. The most important thing is we need to hold our breath while they collect our fluid.
After the test, it is natural that we will sneeze a little bit. Then we will be okay after a few minutes.
After Swab Test
After the test, we will get a pink bracelet tagged on our hand. The KKM staff then brief us on the 14-days quarantine and our hotel arrangement. For your information, we cannot choose the hotel we want to stay in. It will be arranged for us randomly unless you opt to stay in premium hotels, which requires you to pay additional fees.
While waiting for the hotel bus, we need to scan a QR code to fill in a Google Form. This will need our passport and IC in PDF form, so you should prepare them prior.
After waiting for another 1 hour, the hotel bus finally arrived. For our batch, we were sent to Hotel Somerset Medini near Legoland.
Check-in at Hotel Somerset Medini
While we thought checking in at the hotel will not take long, we were terribly wrong. We need to fill in another 2 forms via QR codes: one is to check in hotel, and another one is related to health survey.
In the hotel lobby, we have to give some details to the KKM staff. After that, we proceed to pay for the hotel stay. We can either make the payment in cash or credit/debit card.
The hotel stay will cost RM2,100 for one person, and RM2,800 for two persons. They only allow husband and wife, or both persons with close family relation (parents & child, siblings) to stay together.
After check-in in our hotel room, it was already 4 PM. So we will only get a dinner meal on that day.
My First Experience in Hotel Somerset Medini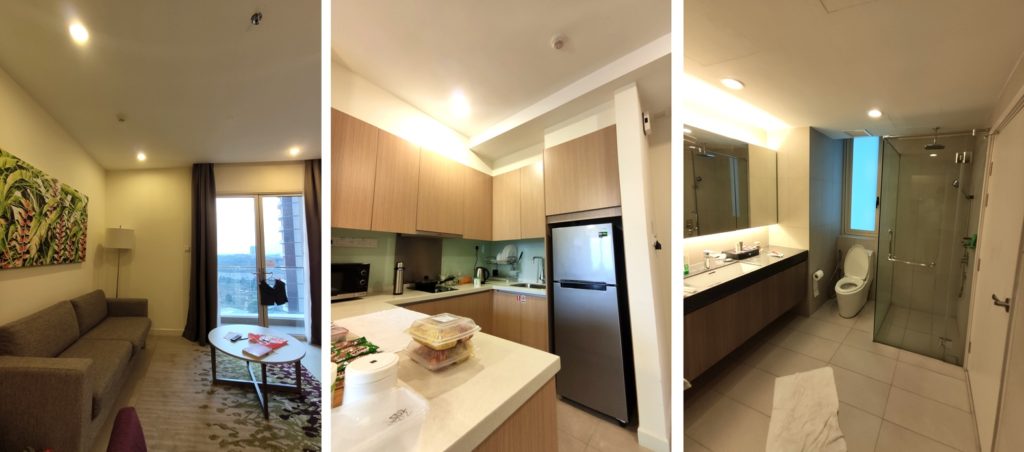 This hotel is actually a service apartment that provides very spacious rooms. Other than a bedroom, we also have our own kitchen and living room. It certainly makes us feel at home.
Other than the basic utensils like kettle and fridge, we also have a microwave, stove and pans. These appliances allow us to reheat our quarantine foods.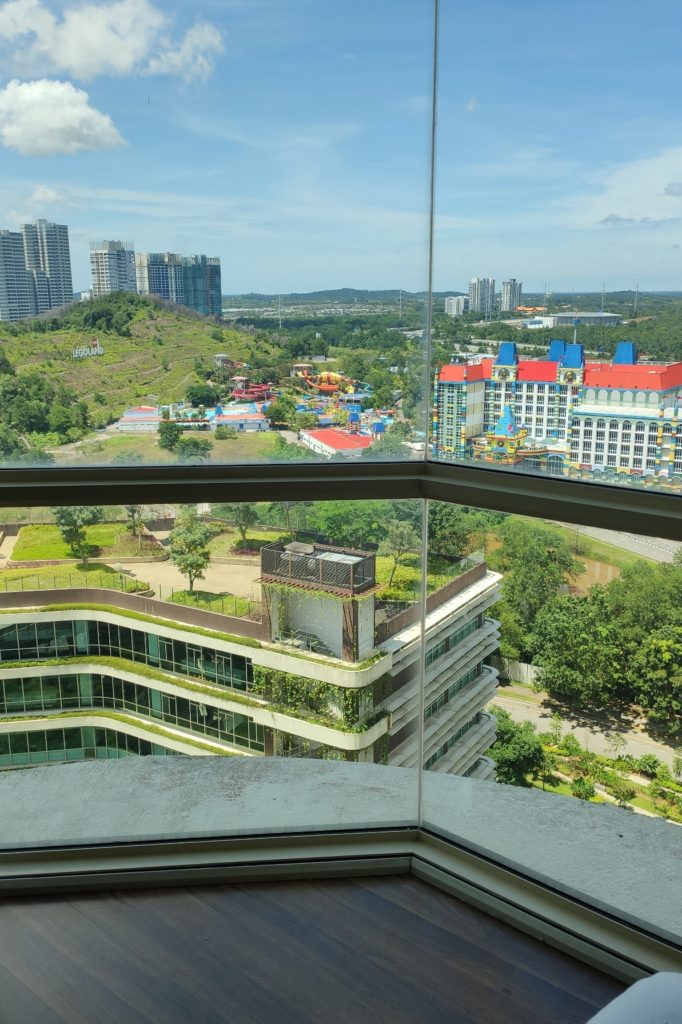 Besides that, we got an awesome view from our bedroom. This will definitely make our stay more memorable. While we need to go through 14-days quarantine in Malaysia, we are really grateful to stay in this hotel for our quarantine period!
Verdict
Overall, we are quite satisfied with the arrangement of the whole team. From immigration to the hotel, all person in charge is pretty polite and friendly. Even though the time in the swab test center is unexpectedly long, we can see the staff are working very hard to arrange things for us.
To sum this article up, here are the takeaways if you plan to travel back from overseas to Malaysia:
Prepare a total of RM2,280 (RM2,100 for hotel stay, RM150 for swab test, RM30 for blood test) if you are a Malaysian who travels alone.
Hotel stay will cost RM2,800 if both of you want to stay in the same room. Only allow for married couples or close family relations.
Before travel, install and register an account in MySejahtera App, and a working mobile data in Malaysia.
Documents to prepare are Letter of Undertaking (LoU), Passport and IC (Both Malaysian and Singapore).
Prepare a PDF version of your passport and IC for filling up Google Form before going to the hotel.
Bring enough foods with you before going to Malaysia (I bring fresh bread & snack bars)
Without PCA or RGL, a 14-days quarantine in an arranged hotel is mandatory.
Honestly, I really wish that the pandemic will end soon, so those who work overseas will have more opportunities to meet with their loved ones at home country.
I have a separate article about my after-quarantine experience. If you are interested to know the things you should bring for the quarantine, food delivery, the hotel foods, laundry, and other details during quarantine, here is the part 2 article: My Personal Experience of 14-Days Quarantine in Malaysia (After)