(This post contains affiliate links. You may want to read my disclosure about affiliate links.)
During the MCO in April, I pre-order the combo set of Money Stories from Malaysians by Suraya of Ringgit Oh Ringgit. The reason I bought the books is not just to support the author, but I'm also very curious about the money stories from Malaysians. Frankly, there are too many US versions of money books and the local version seems like a rare Pokemon to me.
As both books arrived at my parents' house in Malaysia while I stuck in Singapore (until now), I couldn't give any review on the physical books or their packaging. Nevertheless, my parents received it just 2-3 days right after I ordered it. So the delivery speed is commendable.
The combo set I ordered does not only consist of the physical books but also comes with e-book versions of both volumes. Thank God! I'm still able to read these books via e-books during the period of Malaysia-Singapore border closure.
Nuff said. Let's get started on the book content review.
About the Book(s)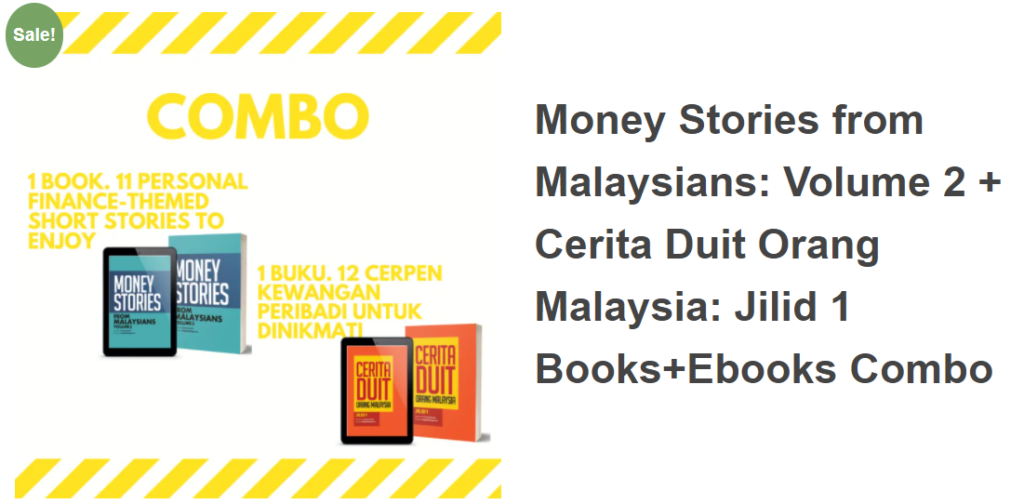 Money Stories from Malaysians Series (Volume 1 & 2) are a compilation of money stories written by different authors, who are all Malaysians. Volume 1 comprises of 12 stories with 137 pages (Malay version), while Volume 2 comprises of 11 stories with 105 pages (English version).
The stories are a mix of fictional and non-fictional. Personally, I would prefer to read non-fictional stories. But some fictional stories are pretty great too! These fictional stories lead us to explore another world with an interesting perspective of money. They surely spice up the storytelling and make my reading more enjoyable.
At first glance, I expect to read the real stories of how Malaysians handle their money or getting rich. However, that's not the case. The Money Stories from Malaysians series aren't the typical finance books that talk about how to manage your money or how to get rich. In fact, some stories aren't even related to money (in my opinion)
What I Like About These Books
As I already read both volumes of Money Stories from Malaysians, the "like" could be for both volumes or just one of the stories in a specific volume. (Don't worry, I will mention it)
Entirely Relatable Stories For Malaysians
I love reading stories that touch my heart, especially when they are so relatable to my past experience. The story "Ini Naila, Lihatlah Dunia!" (Look out for Naila, world!) in Volume 1 reminds me of my childhood time. It is fun to cangkul (dig) the soil beside the river to gather enough worms for my fishing baits.
The story of "Goodwill Nadhim" in Volume 2 also reminds me of another childhood memory. A remote control car is like a luxury toy for me when I was 7. Also, the lesson behind this story is not money-related. But it shares a great lesson to us of never giving up and keep working hard on our dreams!
A Totally Different Level of Saving Money
Although I'm not from KL, I studied in UPM for 4 years and have experience working part-time in KL area. Hence I know that working in KL without a degree can hardly let you save any money, especially when you live in KL.
However, my narrow perspective has been challenged by the story of "The Wandering Waitress" in Volume 2. The true story of the author is really impressive and inspiring. She worked and lived in KL with a low-figure salary, yet still able to save money for traveling. The cheat code is her extreme lifestyle that no one dares to live.
That story has totally changed my view on saving money and how we should live our life. In order to achieve a goal, we can literally do anything for it. But please don't go harm other people la.
An Inside Look on How a Poor Family Survive
Frankly speaking, I have been blessed to born in a family that always has enough money for food, shelter, and entertainment. So I always feel intrigued to read real stories of how a poor family brings food to their table. Their stories also remind me of how comfortable my life is and being grateful with what I have.
The story "Step by Step" in Volume 2 has talked about the struggles of the author and his family face. Despite of several unfortunate events that happened to them, his parents taught him how to be optimistic and inspired him with their persistence in earning money for living.
What I Dislike About These Books
Hmm dislike might be a bit harsh. I would rephrase it as "room of improvement".
I Can't Grasp The Meaning from Some Stories
While most of the stories are great, there are a few which I can hardly get the lesson behind the stories (Specifically the last story in Volume 2). It will be better if there is one highlight paragraph or re-quote at the end of each story. This will not only help people (like me) to grasp the lesson behind those deep fictional stories, it also leaves readers a memorable aftertaste for their brains.
Verdict
So are these books worth to buy? I would say yes if you
are a Malaysian who love to read local stories.
love to learn some meaningful money lessons and life lessons from reading stories.
enjoy reading realistic yet inspiring stories about money (not the typical get rich stories)
But I wouldn't recommend you to buy these books if you
expect to get some tips to earn more money.
are finding a way to turn RM1,000 to a million ringgit in one year.
want to learn some practical ways to manage your money or invest your money.
These books aren't those finance books that teach you how to save money, earn money or invest money. Rather they are just stories that bring you some insightful lessons and inspire you to do something meaningful in life.
If you plan to get one of these books, you might want to check out the store page in Ringgit Oh Ringgit where you can purchase them online.
Disclosure: By using my affiliate link above, I may earn a small referral fee at no extra cost to you.
To read more review about Money Stories from Malaysians, you can check out the review by MyPF as well.
Blog Update & Social Media
If you like this article, then you may like my other articles as well. If that so, feel free to subscribe to my newsletter so you can get the latest update from me when I posted a new article. 🙂
[mc4wp_form id="236″]
Also, you can also get my new blog post updates by following my social media below. Don't be shy and feel free to interact with me as well. See you there!