Before I started my stock investing journey, I always search for Rakuten Trade vs MPlus Online as they have the most competitive brokerage fees in town.
In the end, I chose Rakuten Trade as my first brokerage account as its registration process is easier and took a shorter time.
But in January 2020, I registered an MPlus Online account as well as I need a direct brokerage account. Since I have both accounts, I would like to share how I feel about these two brokerage accounts.
What is Rakuten Trade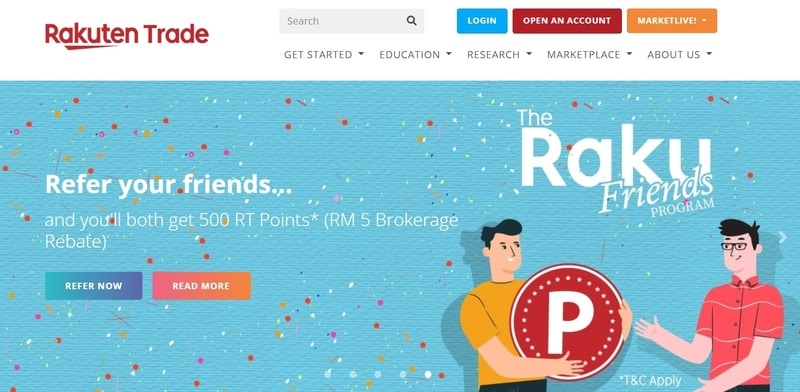 Rakuten Trade is a Malaysian broker founded in 2017, providing a platform to trade Malaysian stocks. The main highlight of Rakuten Trade is we can register an account within a few hours via online applications.
There is no need to register a CDS account in order to register a Rakuten Trade account as they are nominee accounts.
What is MPlus Online
MPlus Online (aka Malacca Securities) is a well-established Malaysian broker since 1963, providing a platform for Malaysian investors to trade stocks in Bursa Malaysia.
Since it is a direct account, registering an MPlus Online account requires us to have our own CDS account.
In old days, new investors need to sign several documents with MPlus remisier before registering an account. Fortunately, nowadays we can register an MPlus account online.
Rakuten Trade vs MPlus, Which One is Better
As I own both accounts, I find both of them are suitable for new investors as they are easy to register and have low brokerage fees. However, Rakuten Trade is more user-friendly compared with MPlus, while MPlus has slightly lower fees than Rakuten Trade if your transaction is RM1,000 and above.
Here is the comparison table for both brokers on each aspect I can think of:
Rakuten Trade
MPlus Online
Account Type
Nominee
Direct
Registration
Approved in 2 hours
Approved in 2-3 weeks
Brokerage Fees
< RM1000: RM7
RM1000 – RM9999.99: RM9
RM10k to RM99k: 0.1%
> RM100k: RM100
Minimum: RM8
< RM50k: 0.08%
> RM50k: 0.05%
Other Trade Fees
Stamp Duty: RM1 per RM1000
Clearing Fees: 0.03%
Stamp Duty: RM1 per RM1000
Clearing Fees: 0.03%
User Interface (App)
Fairly simple
Simple but outdated interface
User Interface (PC Web)
User-friendly and simple
Complex
Withdrawal
Receive same working day if withdraw before 3 pm.
Otherwise, receive next working day (Source)
Receive next working day if withdraw before 4 pm.
Otherwise, receive within 3 working days. (Source)
Dividend Payment
Rakuten Trust Account
Your Bank Account
Dividend Received
3 working days after Dividend Payment Date
Exact on Dividend Payment Date
Rewards
Earn RT Point from trading. It can be converted into BIG points, Bonus Link, Boost coins or deduct brokerage fee
N/A
IPO
Cannot apply IPO
Can apply via Online Banking
Stock Transfer Between Brokerage
RM10 per stock
RM10 per stock
Shown in Bursa Anywhere
No
Yes
Registration Process
When I register an account from Rakuten Trade, its approval was insanely fast. It only took less than 2 hours for me to have my own brokerage account.
The fund deposit is also smooth and fast. Though there is a glitch in their iSpeed app after the transaction, it didn't affect my transaction.
While for MPlus Online, I have to meet with an MPlus remisier to sign registration documents to sign up for a CDS account and a brokerage account. And it took me almost 3 weeks to have my account ready.
The fund deposit is also smooth for MPlus, but the app interface is a bit confusing for a newbie as it has a different amount shown.
Brokerage Fees
This is one of the first criteria most investors will look at. Well, fees do impact a little on our investment return if we neglect it.
Fortunately, both Rakuten Trade and MPlus Online have competitive trading fees. You won't go wrong by choosing one of them.
By looking at the percentage alone, we will assume that MPlus has lower fees than Rakuten Trade. But if we compare them side by side, there is a range when Rakuten Trade has lower fees.

The graph and the table above show the fee comparison between Rakuten Trade vs MPlus Online. The fees include brokerage fees with 6% SST and other fees such as stamp duty and clearing fee.
When our trade is lower than RM1,000, Rakuten Trade has a lower fee. Otherwise, MPlus Online offers a better fee.
If you observe clearly, the larger the transaction, the lower the fee. Since my public portfolio only has RM10k, I prefer to trade between RM900 to RM999 per transaction to increase my number of entries. That's why I chose Rakuten Trade.
User Experience
The image above shows the app interface of Rakuten Trade (left) and MPlus Online.
Both of their apps have pros and cons. In short, they are comparable. Rakuten Trade has a slightly modern interface than MPlus Online though.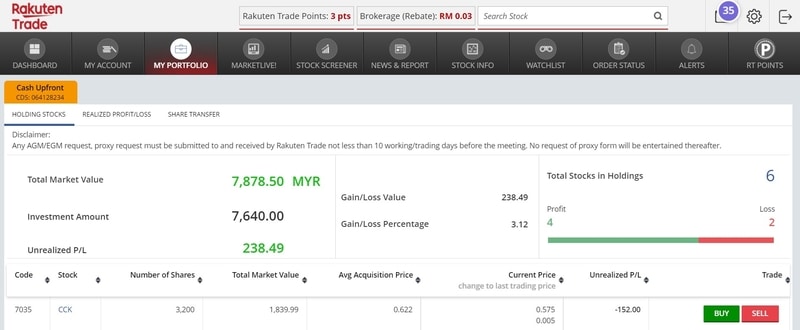 For the web version, Rakuten Trade definitely wins. It has a user-friendly interface and a solid stock screener that is easy to use.

Whereas MPlus web interface is outdated, especially on its navigation. It annoys me when there has to be a pop-up for every sub-menu I choose.
Withdrawal Process
For withdrawal duration, it is possible to withdraw cash on the same day with Rakuten Trade. It depends on whether we withdraw it before or after 3 pm on that day.
However, MPlus Online requires at least one working day to complete our withdrawals, given that we make the withdrawal before 4 pm.
Dividend Payment
As Rakuten Trade is a nominee account, the dividend payment may delay up to 4 working days.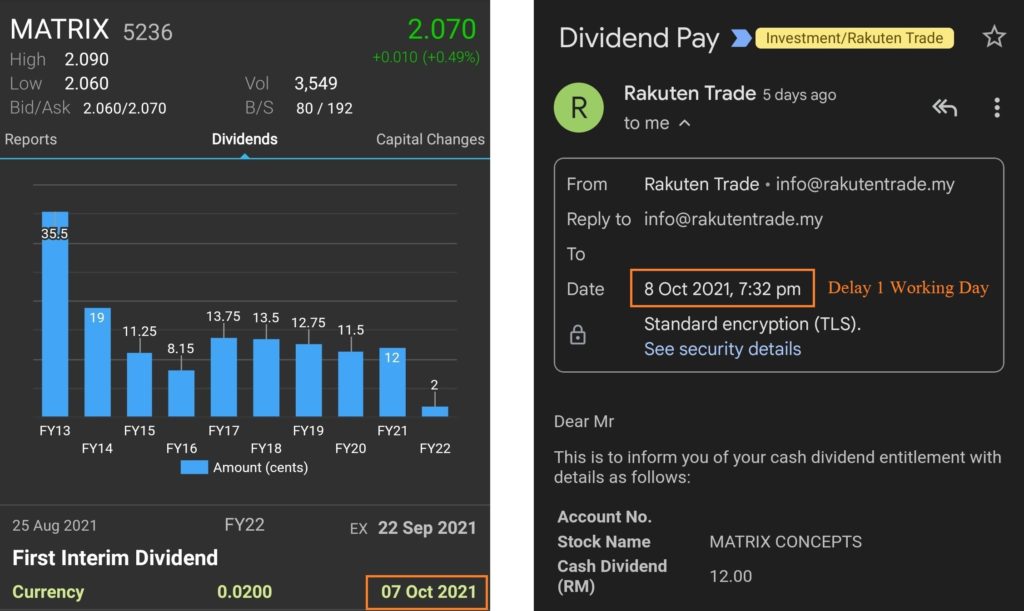 Here is a real example by me, where I received my dividend payment after 1 working day. This is by far the shortest time to receive a dividend payment from Rakuten Trade.
However, I also received a dividend (income distribution) payment from REIT that has been delayed by 4 working days (31 Aug is a public holiday).
Since MPlus Online is a direct account, it has no delay in dividend payment and will receive the same data as announced by the company.
Rewards
Rakuten Trade provides a reward system known as RT points. It can be converted into other points such as Bonus Link, AirAsia BIG Points, or Boost coins.
Besides that, RT points can also be used to deduct brokerage fees when you trade with Rakuten Trade, which is my favorite usage of RT points.
You can earn RT points from your stock transactions in Rakuten Trade. You can also earn extra RT points when you refer your friends to sign up for a Rakuten account. Occasionally, Rakuten will offer free RT points to you via promotions or surveys.
While for MPlus Online, there isn't any reward system available.
IPO (Initial Public Offering)
If you are interested in buying an IPO, then you have to get a direct account, which is MPlus in this comparison. Rakuten Trade does not allow its users to apply for IPO.
Customer Service
Rakuten Trade provides its customer service via phone call, email, and Facebook Messenger (previously was WhatsApp). It also has comprehensive FAQs that answer most of the questions.
Similarly, MPlus Online provides customer service with the same mediums as Rakuten. It also has FAQs which are divided into general FAQs and security FAQs. It's not as comprehensive as Rakuten though.
In terms of experience, I contacted Rakuten a few times via WhatsApp, they respond within 20 minutes to 2 hours and answered my question well. I do not have any experience with MPlus Online though.
Bursa Anywhere
The reason why Rakuten Trade is not listed in the Bursa Anywhere app is due to the underlying CDS account for our brokerage account belongs to Rakuten. This is also the reason why it takes a shorter time to register a Rakuten Trade as we skip the process of opening our own CDS account.
Rakuten Trade Sign Up Referral Code
If you are interested to sign up for a Rakuten Trade account, feel free to use my referral link below.
I would recommend choosing "Cash Upfront only" as you wouldn't want to borrow money to invest. While keying in basic info, you will notice this under Security Questions. Just leave it blank for the referral code.
You will get 500 RT points (worth RM5) upon successfully sign up with my referral link.
Disclaimer:
I may get a little compensation from Rakuten Trade when you use my referral link.
I do not have any referral code for MPlus Online. So you can just directly register an MPlus Online account with my guide here.
Verdict
That's all for the comparison of Rakuten Trade vs MPlus Online. If you are still confused about which brokerage account you should register, here is a summary for you.
Register a Rakuten Trade account if you:
Want to register a brokerage account fast.
Prefer user-friendly web and app interface.
Don't mind your dividend payment is delayed.
Trade stocks often as you may benefit from its reward system.
Prefer to have dividend deposited into your brokerage account.
Are not interested in buying IPO or using Bursa Anywhere app.
Have a small capital (RM10k and below) as transactions below RM1k are cheaper.
Register an MPlus Online account if you:
Don't mind having no reward system.
Prefer to receive your dividend on time.
Need to have your name on the stocks you own.
Like to apply for IPO and use Bursa Anywhere app.
Are okay to have dividend deposited into your savings account.
Have a fairly large capital (RM10k above) as transactions between RM1k to RM10k are cheaper.
If you can't decide which one, then just apply both accounts. 😉
Let me know which brokerage account you prefer to register in the comment section below.
If you are an existing user of either one of these brokers, feel free to add your own feedback in the comment section as well.