I believe many people have started to use robo-advisors such as Wahed Invest for investing. But very few really know what's behind the Wahed Invest portfolio.
So I would like to take this chance to do researches and share with you the detailed breakdown of the Wahed Invest Portfolio.
What is Wahed Invest
Wahed Invest is the first shariah-compliant (halal) robo-advisor in Malaysia. It is very beginner-friendly as it has a simple and intuitive user interface.
It offers several portfolios with different risk levels and geographical regions. There are portfolios with a mixture of US and Malaysia, US stocks only, and gold-only portfolios as well.
Wahed Invest Portfolio Breakdown
If we deposit our money into Wahed and start investing, what assets or companies are we really investing in?
Most investors are not keen to dig deep into those portfolios. So I will do you guys a favor by breaking down all the portfolios available in Wahed Invest. So you know what are you really investing in.
There are total 8 portfolios available in Wahed Invest (on Nov 2021):
Very Conservative
Moderately Conservative
Moderate
Moderately Aggressive
Aggressive
Very Aggressive
US Stocks
Gold
Very Conservative Portfolio
You better off just investing in the Sukuk/Bond Fund instead of choosing this portfolio. Why pay fees for this kind of portfolio?
Moderately Conservative Portfolio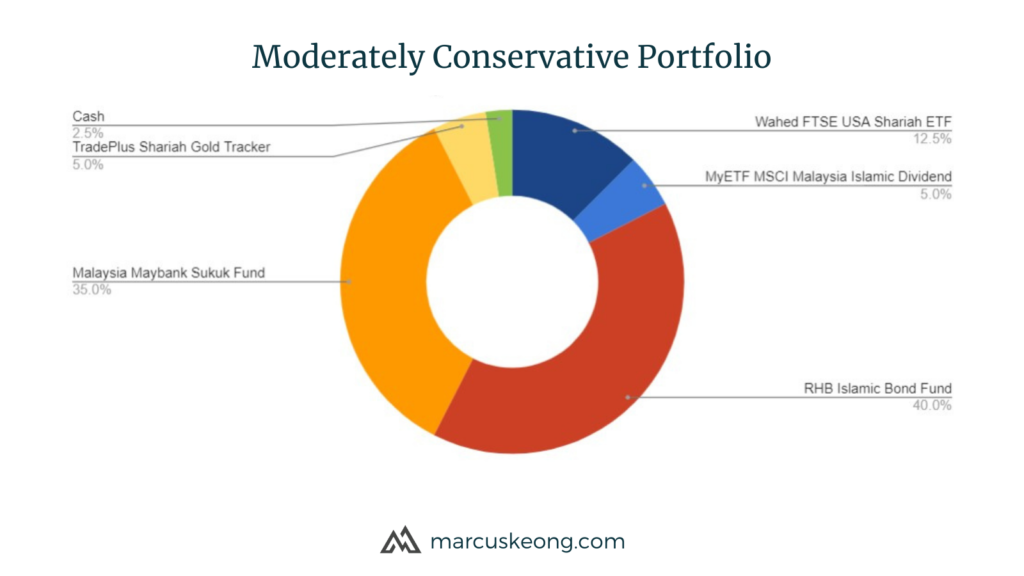 Are you okay with 75% of your money in the Sukuk/Bond fund? If yes, then this portfolio might be for you.
Moderate Portfolio
This portfolio has 55% in bonds, 35% in stocks, 7.5% in gold, and 2.5% in cash. It suits someone who is risk-averse and doesn't want too much volatility.
Moderately Aggressive Portfolio
Starting from this portfolio, the allocation for stocks is higher (52.5%), while 35% in Sukuk/Bond and 10% in gold.
We can notice that Wahed always allocates more to the RHB bond fund than Maybank Sukuk Fund. I guess it is because the historical return for the RHB bond fund is more promising.
Aggressive Portfolio
Aggressive Portfolio has 62.5% in stocks, 25% in Sukuk/Bond, and 10% in gold.
You see? 17.5% in RHB Bond Fund but only 7.5% in Maybank Sukuk Fund. It's obvious that Wahed prefers RHB Bond Fund 😉
Very Aggressive Portfolio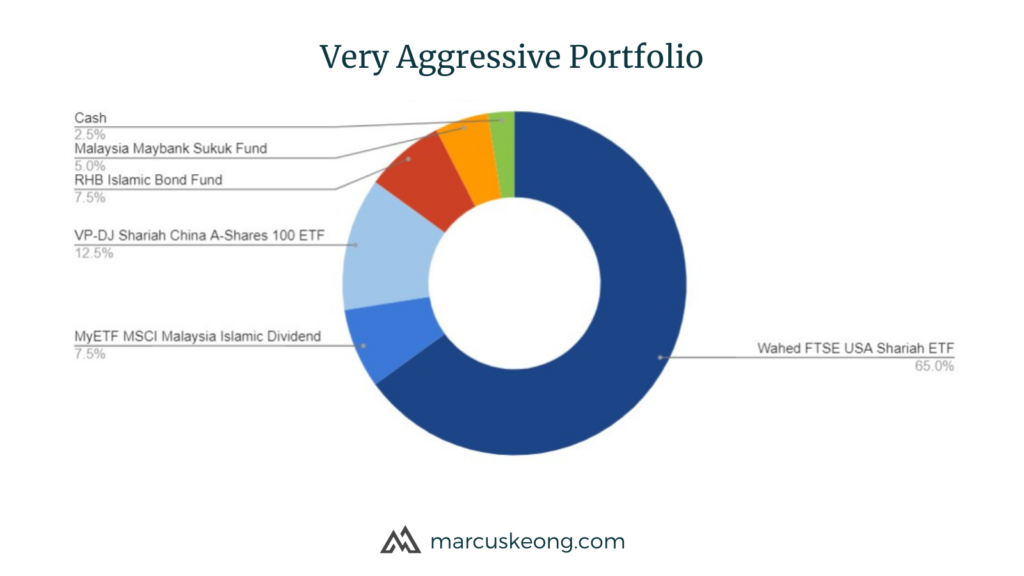 This portfolio is the only diversified portfolio that does not invest in gold. It has a very high allocation in stocks (85%) and only 12.5% in Sukuk/Bond.
US Stocks Portfolio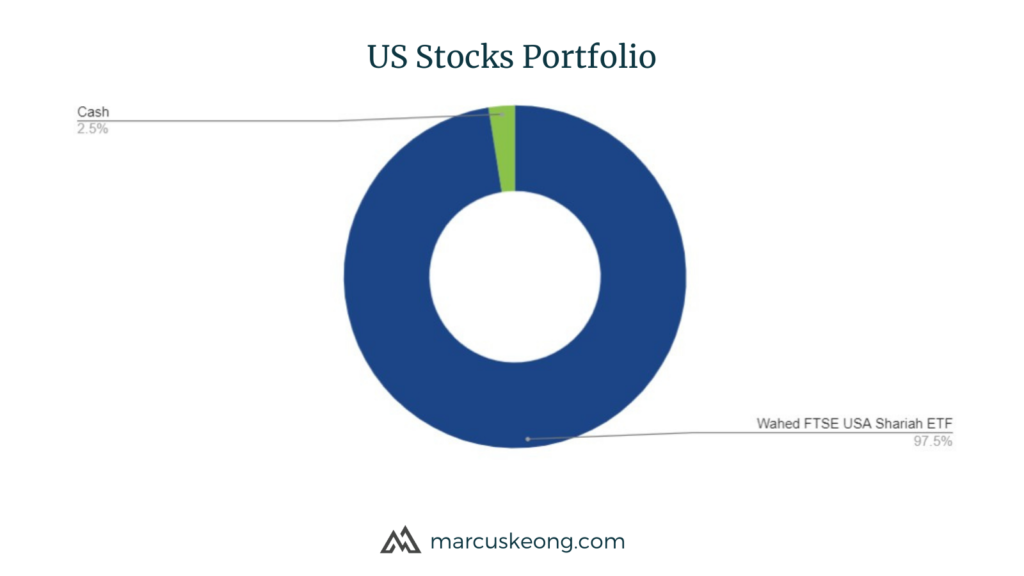 This portfolio is literally a one-fund portfolio, which is Wahed FTSE USA Shariah ETF.
While this portfolio looks highly concentrated, ETF itself is diversified. If you are comfortable with the top allocations for this ETF, this portfolio is the best choice for simple investing.
Personally, I invested in this portfolio with my Wahed's fund.
Gold Portfolio
I don't see any use case for this portfolio. If you really want to invest in a gold ETF, just open a local brokerage account and invest in this ETF directly in Bursa Malaysia.
Aside from the one-time brokerage fees, you can hold this ETF as long as you want, without being charged for management fees.
Related Article: How to Register a Brokerage Account in Malaysia
Wahed FTSE USA Shariah ETF Breakdown
Wahed USA Shariah ETF can be found in most portfolios in Wahed. In fact, there is one portfolio (US Stocks) that only invested in this fund.
Hence there is no harm dig deeper into this fund. Let me share some breakdowns about the fund with you.
Basically, Wahed FTSE USA Shariah ETF tracks the FTSE USA Shariah Index. It means our fund will be invested in whatever stocks and their allocations the index is composed of.
According to the index factsheet, 16.7% of the money is invested in Apple, 6.3% in Tesla, and 3% in Johnson & Johnson. The top 10 stocks made up 40% of the total fund.
At first, I thought Procter & Gamble is a gambling company. It is actually a conglomerate company that provides all kinds of consumer products. Some famous brands under this company are Ambi Pur, Oral-B, Gillette, Pantene, and Vicks.
Feel free to Google search the background of other top 10 companies. No hurt understand more about the fund before or when we invested in it.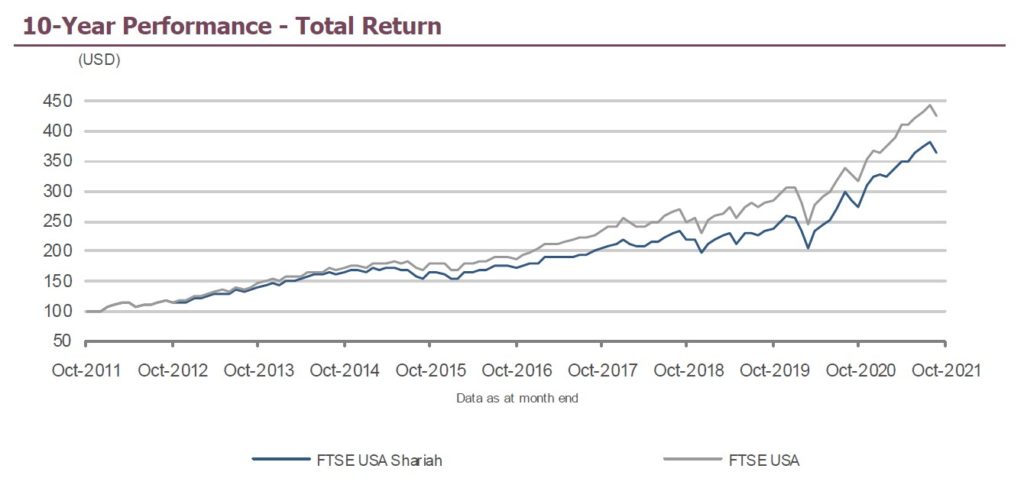 The above information is obtained from the fund's factsheet, updated on 29 October 2021. The comparison between FTSE USA and FTSE USA Shariah shows that there is usually a 1% to 5% difference in performance.
Nevertheless, it looks like this ETF is quite dependent on the performance of its top 10 stocks. If Apple or Tesla is not performing well, our Wahed investment will be significantly impacted.
Disclaimer:
The above information is obtained via the FTSE Russell website and data as of 29 October 2021. You may download the FTSE USA Shariah Index fact sheet or visit their website.
How Much Fees Wahed Invest Charge
Wahed Invest has a straightforward pricing system. With funds of RM499,999 and below, Wahed will charge an annual fee of 0.79% of total our investments. For RM500k and above, the fees will be only 0.39% per year.
There is also a minimum fee of RM2.50 per month if we have more than 2 portfolios (with money). However, we can disregard this fee if we have more than RM3,800 in Wahed Invest, as 0.79% of RM3,800 is above RM2.50 per month.
Besides that, setting up recurring fund deposits will incur fees for us as well. We will get charged RM2 for every recurring deposit. To avoid this, I create a monthly reminder so I can make a one-time deposit without getting charged.
My Wahed Invest Portfolio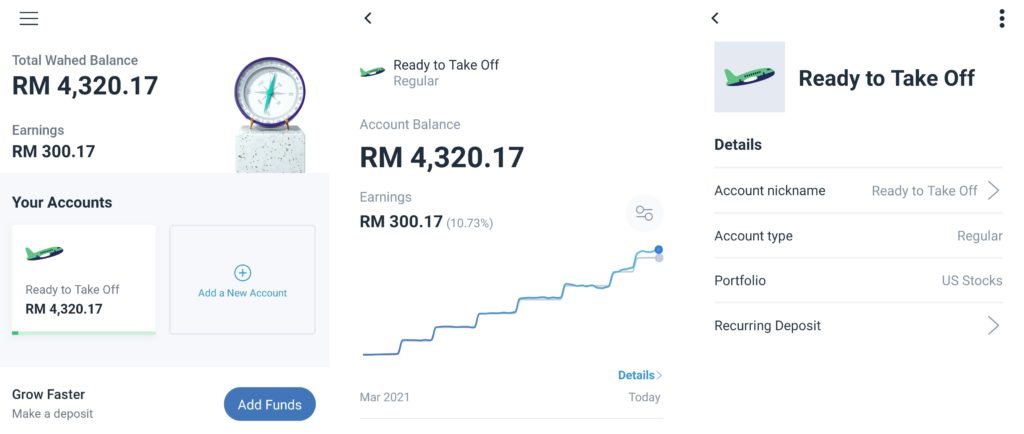 I started investing in Wahed with the "Aggressive" portfolio in March 2021. In the middle of that, I decided to change into the "US Stocks" portfolio as I prefer the "high-risk high-return" choice.
It was a wild ride and there was a period when my earnings are negative. Despite that, I keep on depositing RM500 on a monthly basis. I'm happy with how it turns out now.
How to Start Investing with Wahed Invest
Download and install the Wahed Invest app via App Store or Google Play.
Launch the app and tap on "Get Started" to sign up for a new account. You will be prompted to key in your email address, create a new password, and verify your email address.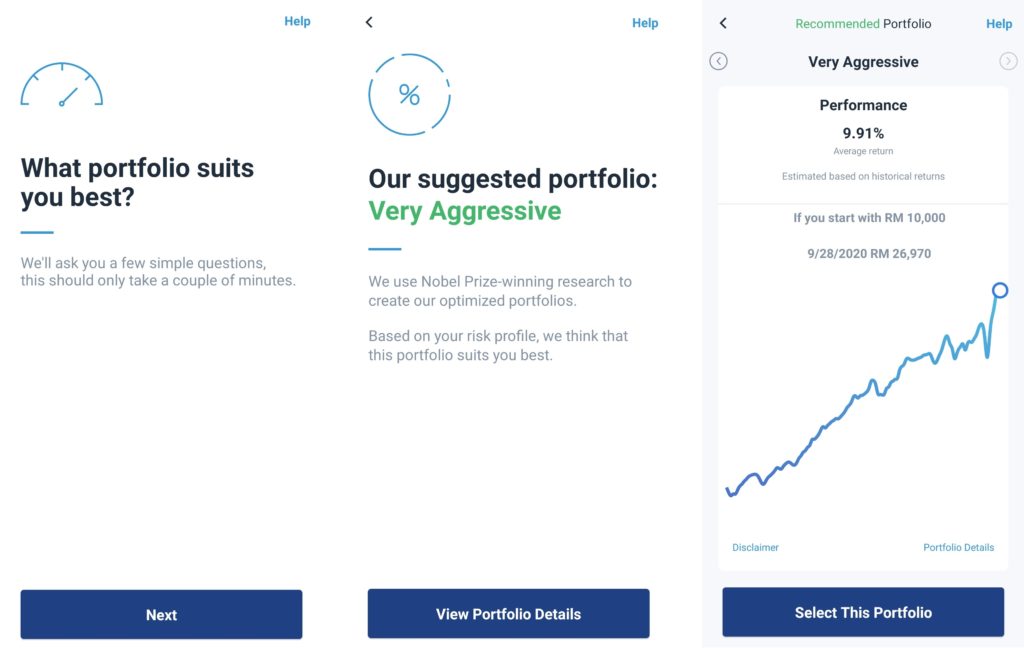 Before filling up your personal details, you will require to answer a set of questions that help to find the most suitable portfolio for you.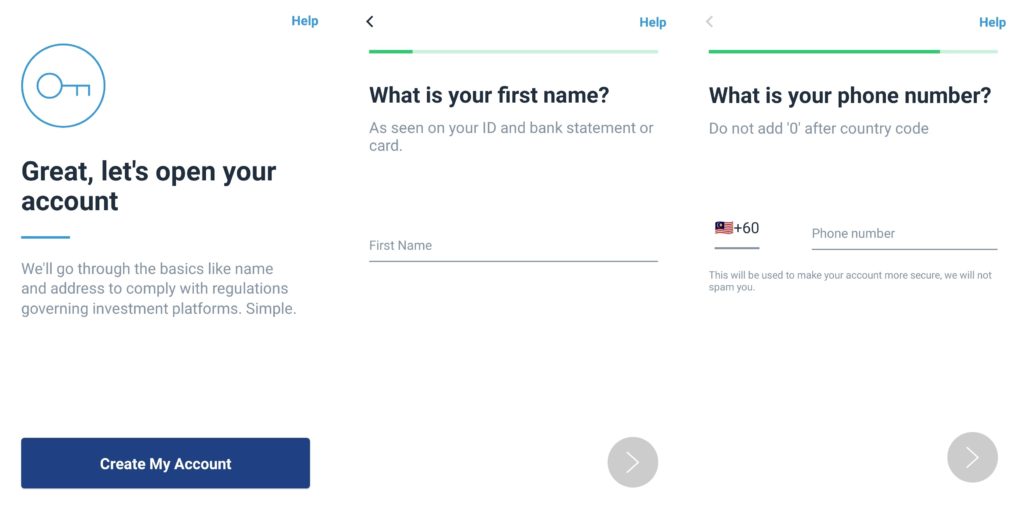 When you are done with the portfolio, you will start to fill in your personal details. You need to verify your phone number as well.
After done filling in your details, you can review them for any mistakes. Also, don't forget to key in a referral code to claim free RM10 when you deposit RM100 into Wahed Invest.
If you do not have any referral code to use, you may use my referral code "MARKEO1".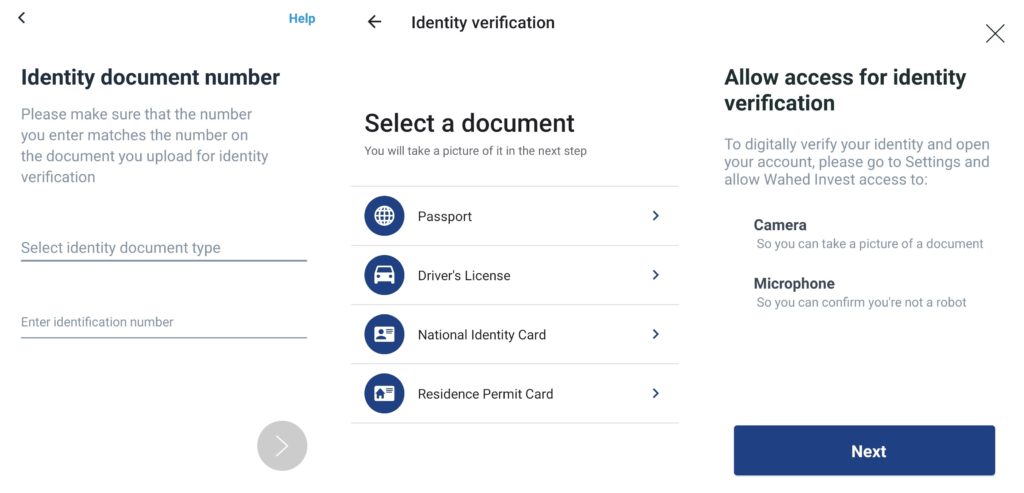 Last but not least, you have to complete the identity verification.
For Malaysians, just choose National Identity Card and upload your ICs front and back. For non-Malaysians, the passport will be a suitable document for identity verification.
After that, all you need is to wait for the Wahed team to approve your account. Please note that you should only deposit money into your Wahed account after your account is approved.
Conclusion
Shariah-compliant investments, user-friendly interface, low minimum deposit, and US market exposure. There's nothing more suitable than Wahed Invest for Malaysian investors, especially those who just started investing. And it would be better if we know what we are investing in.
When you understand more about the funds behind these portfolios, you can now invest with better confidence. After all, you know which companies and businesses you are investing in.
Another thing to note on the portfolio returns provided by Wahed. Those are usually average returns. In reality, the annual return is inconsistent and we may have an unexpectedly high return or loss for the whole year.
Hence, it is wise to always invest for the long term. For me, it's at least 5 years and above. Let us be resilient investors that won't be easily swayed by short-term losses and stay invested for long-term gains.
Here are the download links for Wahed Invest. You may use my referral code "MARKEO1" for a free RM10 bonus when you deposit RM100 into your Wahed account.
I wish you the best in your investing journey!
Featured Photo Credit: Anna Nekrashevich from Pexels