This article is the part 2 of my sharing on 14-days quarantine in Malaysia. If you haven't read my previous blog post, here's the article link:
My Personal Experience of 14-Days Quarantine in Malaysia (Before)
Thank God we have safely reached Melaka on 6th November before the implementation of CMCO across most of the states in Malaysia. But you don't worry about state crossing as we can obtain a letter from the healthcare staff here in the hotel. I'll talk more about that later.
In this article, I will try to share the things you should bring for quarantine, food delivery, hotel foods, laundry, and other little tiny stuff that I can think of.
Things to Bring For 14-Days Quarantine
Frankly speaking, just treat this as a 2 weeks staycation. Bring all those things that you will bring for holiday trips. Toothpaste, toothbrush, phone charger, clothes, underwear.
After we cover all that, here are a few things that you should consider to bring as well:
Snacks & Beverage Packet
Although the hotel provides us food, there are always chances that we get foods that we wouldn't eat. So bringing some snacks and beverages is a must. This will keep your stomach contented for the whole quarantine.
Also, bringing your own foods will save your wallet from constantly ordering food delivery. I will talk more on how food delivery works during quarantine in next section.
Personally, I bring nuts, biscuits, raisins, Muesli bars for snacks, and Milo 3 in 1, Nestum Instant Oat, and Dilmah Tea Bags for beverages. If those are too healthy for you, you can consider bringing Instant Noodles as well.
Cutlery (Cups, Spoon, Fork)
We were lucky to stay in a hotel that has all the cutlery we need, includes plates, bowls, knife, and even a chopping board.
Nevertheless, we still bring our own cups, spoons, and forks for safety purposes. We will never know if the hotel did the sanitization well.
Books to Fill Your Time
Imagine swiping on the Facebook or Instagram feeds for the whole day. There's nothing more boring than these. So consider bringing some books with you to read during these 2 weeks quarantine.
If you don't like to read those boring educational books, comic books are fine too. At least reading books can reduce your screen time. Your eyes will thank you later.
Your Own Towel
The hotel does provide towel. However, they will not change a new one for you during the 14-days quarantine.
If you don't mind using it for 14 days, then you can skip this. Personally, I brought my own towel and use it for 7 days, then use the hotel towel for another 7 days.
Your Own Body & Hair Shampoo
These items also provided by hotel, but you need to constantly request for it.
At least this happened in the hotel I stayed at, and it applies to toilet rolls as well. If you don't ask for it, you will only have 1 or 2 toilet rolls.
If you want to save the hassle, then bringing your own shampoos will help.
A Tumbler for Hot Water
I don't know about you, but I always prefer hot drinks like Ceylon Tea or Milo. Even though we have a kettle in every hotel room, I enjoy sipping hot tea while reading books or surfing the Internet.
This item is optional if you don't mind reboil the water again in the kettle. I choose not to do it as I do read some news that it is harmful to reboil the water in the kettle.
Regarding Food Delivery for Quarantine Hotel
There are some strict rules for food delivery when we stay in quarantine hotel. Here are some rules that apply to most quarantine hotels:
The hotel lobby only accepts Food Delivery between 3pm to 5pm every day.
They will only send over your foods after 6pm.
You can only order foods from recognized food chains or franchises.
The foods must be halal.
In other words, we will only receive our food during dinner time. Besides that, your foods will definitely turn cold if you order it too early (which is around 3pm).
Basically, we can use any food delivery service such as Food Panda or Grab Food. However, the foods should be halal and come from reputed restaurants.
Here are the few examples of reputed food chains I can think of:
McDonald
KFC
Old Town White Coffee
Family Mart
Subway
Burger King
Starbucks
Secret Recipe
If the restaurant you have in mind is not there, you can simply call the help desk and confirm if you can order from there. So far we only ordered from Subway and McDonald, which we can keep the foods as tomorrow breakfast.
Other than fresh foods, we can order groceries as well, except wet foods such as egg, meat, butter, sauces, and other wet groceries. The delivery time for groceries is the same as ordering fresh foods.
With enough snacks and large portion foods, we didn't need to order any groceries during the 14-days quarantine in Malaysia.
Food Portion Change Request
If you don't want to waste money on food delivery, you can actually request to upsize your daily meals FOR FREE. I'm not too sure if this applies to all quarantine hotels, but there's no harm to try and request from the help desk.
Of course, you should ask if they will charge on meal upsize before you make the request.
Alternately, if the foods are too much for you, you can definitely ask for a smaller portion to prevent too much food waste.
Laundry Service Will Not Be Available
Yes you heard that right. No laundry service is available during your 14 days quarantine.
So how did we survive? We wash our clothes by ourselves, without a washing machine. We brought our own detergent, hangers & clothes clips for that.
Here are some photos that show how we wash and hang our clothes.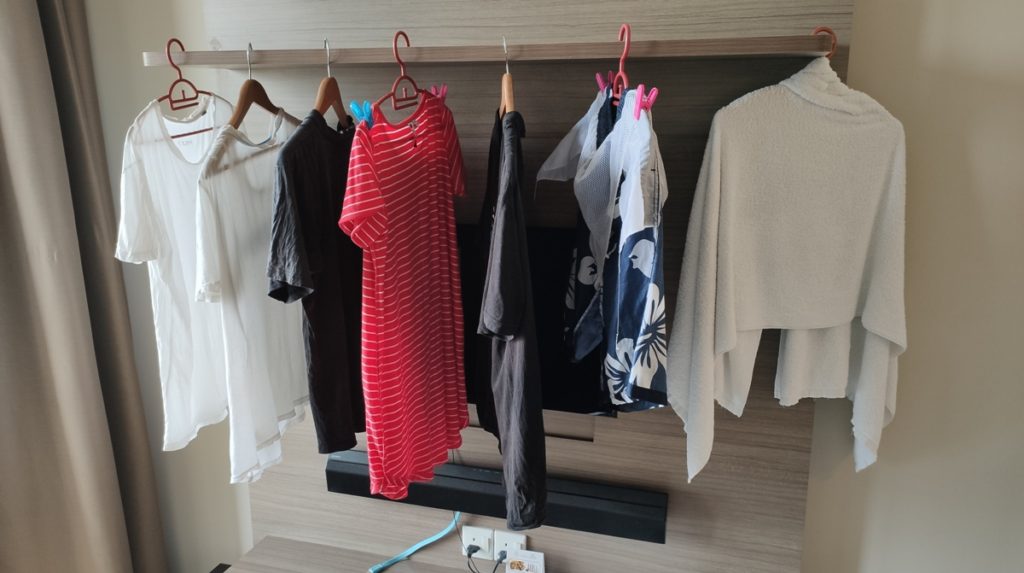 But if you hate to wash clothes, then you should consider bringing 14 days worth of clothes. Some chose to wear the same clothes for a few days, which is fine if you are staying alone.
Blood Test Before We Get Discharged
Before we get discharged, we need to do a quick blood test. Not sure what's the reason behind this, but I guess it is part of the SOP to make sure we are healthy before released.
For its fee, we need to prepare RM30 (preferable in cash) for each person. They will collect the fee from door to door one day before the blood test.
The blood test will usually be done on the 3rd or 2nd last day of our quarantine. We just need to bring our IC, passport, health form (obtained during hotel check in) and the RM30 receipt.
On the Last Day of Quarantine
You might be wondering how to calculate your last day of quarantine. Here's how.
If you check in the hotel on 1st of November, then your last day of quarantine would be 14th November, check out before 12pm. You can check your pink bracelet on your hand for the last day of quarantine as well.
During the last day of the quarantine, we have to wait for the hotel staff to approach us. It will be around 11am to 12pm when they come and knock on our door. That door knock sound will be the sound of freedom for us. 😀
Here are the few things you will expect to do during check out:
Return your hotel card
Your pink bracelet will be removed
Fill in quarantine release form via QR code scan
Get sign and stamp from KKM, hotel staff and police
Obtain a cross state approval letter from staff (if you are going out of Johor)
Our Review on Hotel Somerset Medini Puteri Iskandar
Hotel Room Condition
We are really happy that we get to stay in Hotel Somerset Medini. Apart from their spacious apartment-like room, there are also many appliances and cutlery for us to use.
Having a microwave in our hotel room definitely helps a lot in reheating our meals. The big washroom basin is also a life-saver for our clothes-washing routines. There is also a laundry basket for our used clothes and places to hang our clothes in the room.
We couldn't ask for a better room. A no-brainer 5 stars for their hotel room!
Customer Service
I have great experience with their help desk. Even though we ask a lot of questions regarding food delivery and food portion change, they answer every question with a lot of patience.
Moreover, they are available 24 hours just like the usual hotel reception. So it is a big help for us. Definitely 5 stars from me on their customer service.
Quarantine Foods
I would not say the foods from this hotel are totally bad. Some of them are quite good. So I will give their foods 3 stars out of 5 stars.
In case you are wondering what foods will you get during the quarantine, here are the photos of our foods during 14 days quarantine.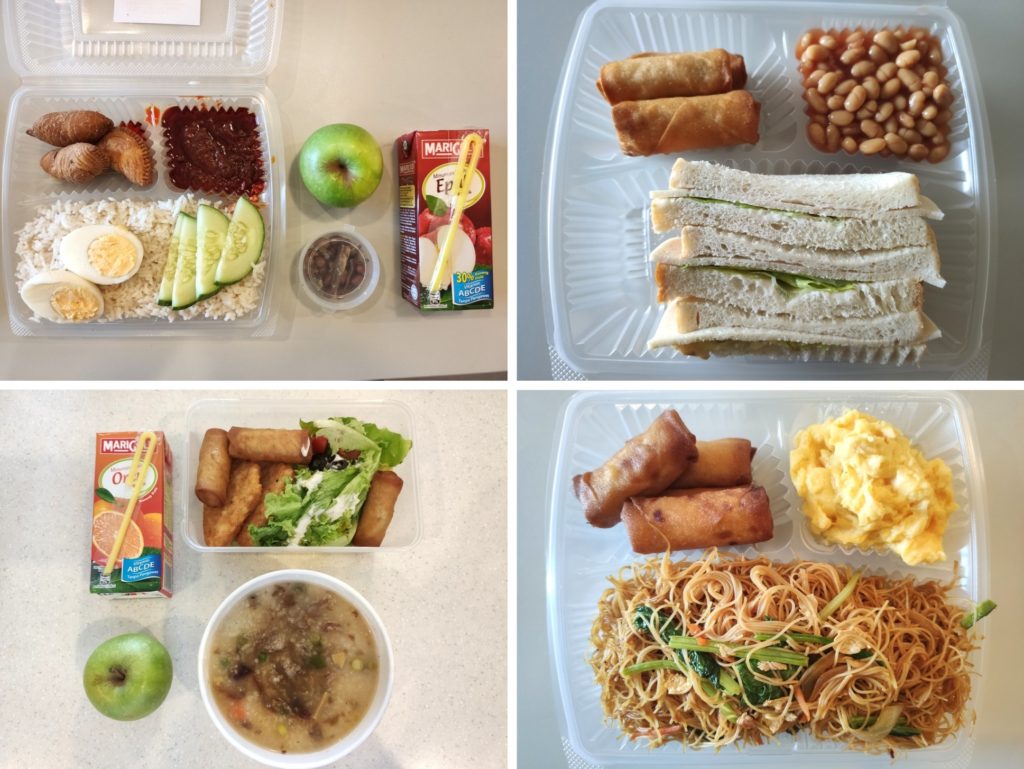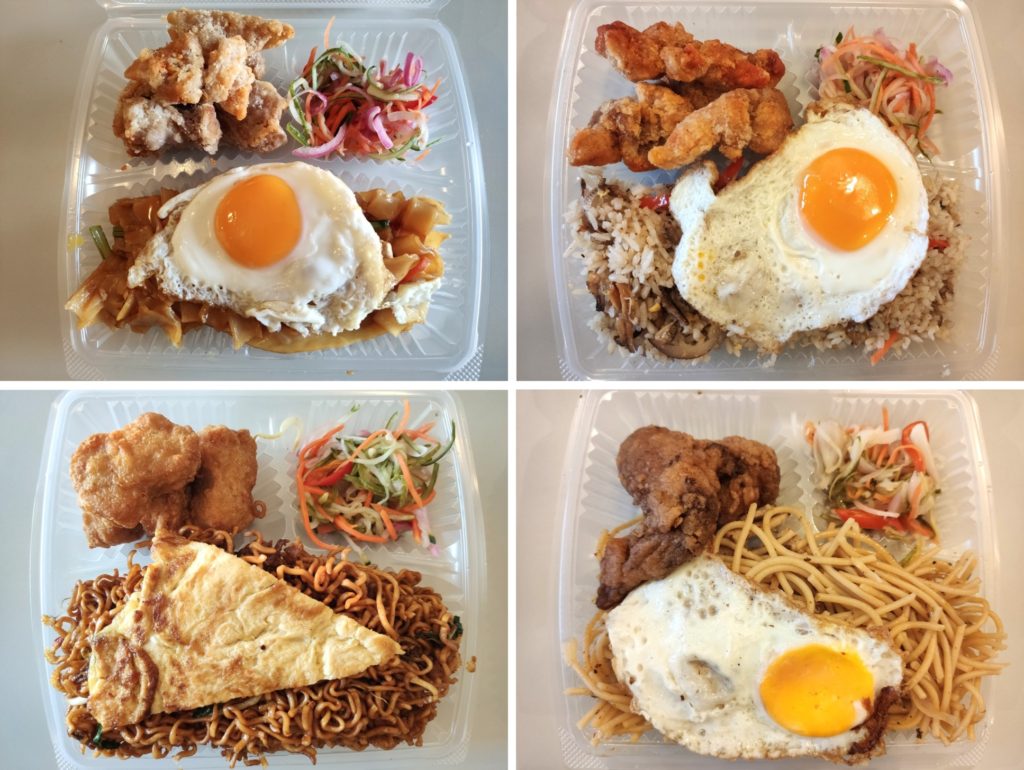 Please note that the foods might be different for each hotel. So just take these foods as reference.
The List of Quarantine Hotels in Johor Bahru
Speaking of hotels, I did obtain a list of JB hotel from the Telegram support group. If you were looking to go back to Malaysia via entering JB, here is the list of hotels that you might get chosen for the 14-days quarantine in Malaysia.
The top 3 hotels highlighted in green are the hotels you will wish to get. They are the best in terms of room conditions, facilities, space, and services.
I'm not sure about the food quality of each hotel listed there. Besides, everyone has different taste buds and expectations.
For me, our quarantine experience will be a lot better when we get a great hotel room. Food comes in second as we still can bring our foods and order delivery.
Verdict
In overall, we are really satisfied with the service provided by both hotel and the healthcare staffs. Our quarantine experience has been pleasant with the help of these (I'm not sure if they are) volunteers.
This article might not be an evergreen blog post, but I still wish to help out Malaysians who wish to come back home from overseas. So if you find it helpful, please help to share with your family and friends who need this information. 🙂
If you like to know what to prepare before entering Malaysia from overseas, you can read this article: My Personal Experience of 14-Days Quarantine in Malaysia (Before)