You have read hundreds of articles on how to trade stocks and REITs, how the stock market works, and you are eager to start right away. But before you start, you need a CDS account and a brokerage account. Hence this article is meant to guide you on how to open a CDS account in Malaysia with an app called Bursa Anywhere.
But before we go into the step-by-step guide, let me share with you a few things that you may want to learn if you are new to stock investing.
Update 29 March 2021:
If you plan to register a brokerage account from Malacca Securities, I highly recommend you skip this article and register an account from them directly. The reason is that you will be charged twice the CDS account fees if you register from both Bursa Anywhere and Malacca Securities.
Here is my short article on How to Register A Brokerage Account (MPlus Online) in Malaysia

Disclaimer: I am not a certified financial advisor. Hence the article's content is based on my own knowledge and experience. I try my best to provide the most accurate information possible but feel free to enlighten me if there is any misleading information provided.
What is Bursa Anywhere App
Bursa Anywhere is a mobile app by Bursa Malaysia to allow investors to check their CDS accounts in one place. In this app, investors now are able to view all their shares in Bursa Malaysia in one place and perform CDS account services such as transferring shares between brokerage accounts.
Another awesome feature Bursa Anywhere has is we are now able to open a CDS account completely online. Days are gone when we have to depend on our brokerage agent to open a CDS account on our behalf.
Some of you might be wondering, is it really new to open a brokerage account in Malaysia online? It can be done easily with Rakuten Trade, right?
Hold your horse first. Keep reading and I'll explain.
Read More: 3 Stock Investing Apps You Should Install When Invest in Malaysia
CDS Account vs Brokerage Account
A CDS (Central Depository System) account is a depository account that stores all the shares we own. Since Bursa Malaysia is the only market in Malaysia, so it is safe to say that all CDS accounts are maintained by Bursa Malaysia.
A brokerage account (AKA a share trading account) is where we can deposit money and place trades in the stock market. It serves as a platform for investors to trade stocks.
When we buy stocks from the stock market, the broker will help us with the transactions and store the stocks in our CDS account. Hence, we need both a brokerage account and a CDS account for us to trade stocks.
However, there is a way for us to trade stocks without having our own CDS account. It is by registering a nominee account.
Direct Account vs Nominee Account
When we want to open a brokerage account in Malaysia, there are two types of accounts: direct account and nominee account.
Simply said, a direct account is a brokerage account that ties with our own CDS account, while a nominee account is a brokerage account that ties with their CDS account.
With a nominee account, the shares you bought will be under the broker's name. Hence you don't need a CDS account when you register a nominee account. Rakuten Trade is the brokerage firm that provides only nominee accounts.
Hence in this guide, I am trying to share how to open a direct CDS account online, NOT a nominee account. Hope you are clear on this.
Pre-requisite for Account Registration
RM10 for the registration fee (any broker)
Your IC for photo taking
A Bank Statement with Your Name & Bank Account Number
Step-by-Step: Open a Brokerage Account with Bursa Anywhere
All necessary information covered? Good. Let's get started on how to open a brokerage account in Malaysia with Bursa Anywhere.
Download and Install Bursa Anywhere
You can download the Bursa Anywhere app either from the Play Store or App Store. Upon the app has been installed, start the app and you will see the page below.
As a first-time user, click "Register" and key in your IC. You will then see a prompt out saying you do not have a CDS Account as shown below.
Before guiding you on how to open a brokerage account in Malaysia, we need to register an account for Bursa Anywhere (Bursa Malaysia) first.
Register an Account in Bursa Malaysia
Fill in your name, date of birth, gender, email address, and phone number. After step 2, you will be required to key in an OTP sent to your email address.
After submitted your OTP, you will create your own username, password, and secret FAQs for Bursa Anywhere. Then you need to key in another OTP sent to your phone number.
Register a CDS account
After done with Bursa account registration, now we will be filling in our details for the CDS Account. At the end of the steps, we will only choose our preferred ADA (Authorized Depository Agent), also known as brokerage houses.
Step 1 will have all the info pass down from your Bursa account, and you only need to input a home or office telephone number in step 2.
Complete the info in step 3. Then, you will be filling up the address that is found in your IC, not the current house address you're staying in now.
For step 5, enable "Copy from registered address" if you want your Bursa letters delivered to your IC address. Next, you will fill in a bank account that will be used to receive your dividends. Also, this step will lead you to take a photo of your IC front and back.
There is an important step here. Upload your bank statement by either taking photo or choosing a photo from your phone gallery.
Do not choose "Choose PDF file" for your bank statement because you will receive this error (as shown below) at the end of your registration. I stuck here for some time before I figure out this is an app issue. Bursa Anywhere does not able to proceed with our registration when a PDF file is uploaded.
When you are done, press "Next" and wait for IC verification.
Choose Preferred Brokerage Agents
The last step will be choosing your preferred brokerage account. I tried choosing the same broker for both options but it doesn't allow us to. So we have to choose at least two different brokerage houses to proceed.
If you have no idea which brokerage account to choose, you can check out iMoney's page for a great summary of all share brokerages available in Malaysia.
Other than choosing the one with the cheapest brokerage fee, you should also consider choosing one that can buy global stocks if you are interested to invest in overseas.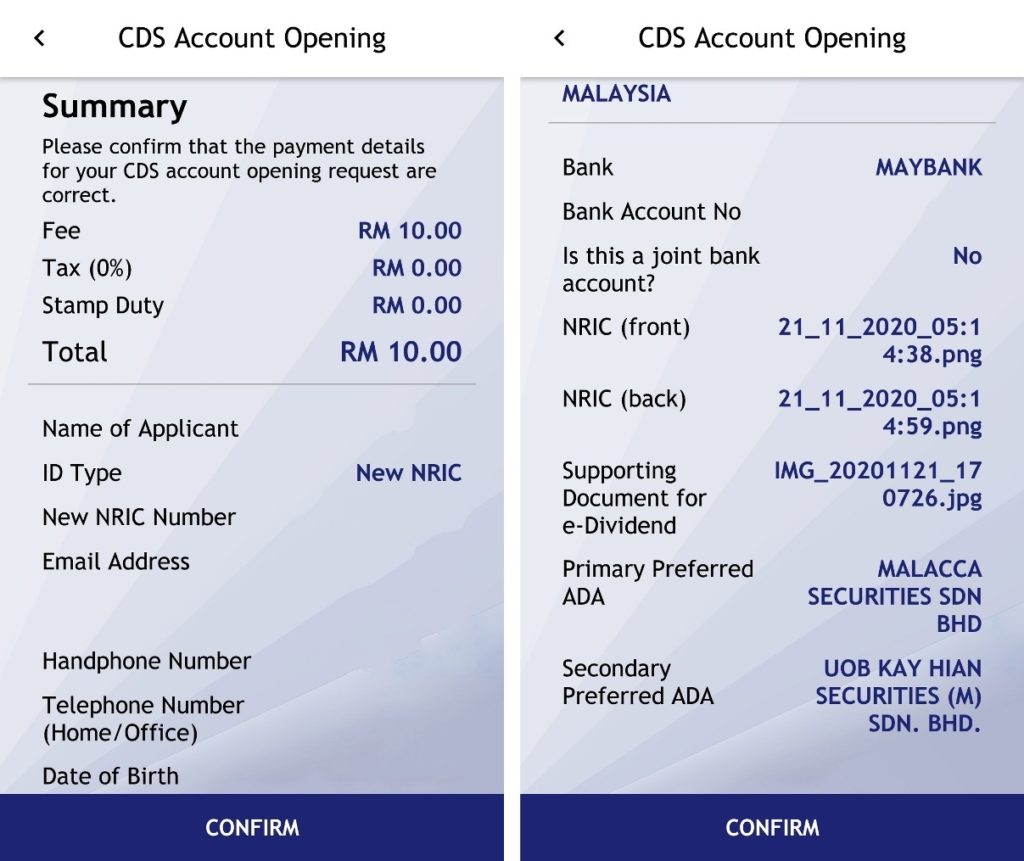 Before proceeding to payment, you should check if all the information provided is correct.
Pay and Complete Your Registration
RM10 is the default registration fee when you register a brokerage account, regardless of the agent you choose. You will be paying this fee via FPX using a bank transfer.
After payment is successful, you can now login to Bursa Anywhere and seeing this page as shown below.
Of course, the brokerage firm needs some time to approve your registration. So you will be seeing "Pending" status when you logged into your Bursa Anywhere account.
Brokers (ADA) Available in Bursa Anywhere
Here is a compilation list of ADA listed in Bursa Anywhere when opening a CDS account:
Affin Hwang Investment Bank Berhad
Alliance Investment Bank Berhad
AmInvestment Bank Berhad
BIMB Securities Sdn Bhd
CGS-CIMB Securities Sdn Bhd
FA Securities Sdn Bhd
Hong Leong Investment Bank Berhad
Inter-Pacific Securities Sdn Bhd
JF Apex Securities Berhad
KAF Equities Sdn Bhd
Kenanga Investment Bank Berhad
Maybank Investment Bank Berhad
Mercury Securities Sdn Bhd
MIDF Amanah Investment Bank Berhad
M&A Securities Sdn Bhd
PM Securities Sdn Bhd
Public Investment Bank Berhad
RHB Investment Bank Berhad
SJ Securities Sdn Bhd
TA Securities Holdings Berhad
UOB Kay Hian Securities (M) Sdn Bhd
Note: This list is updated on 22 November 2020.
Summary
There are some bugs in this app when you try to fully use it. But at least we can open a brokerage account in Malaysia without meeting a brokerage agent. So Bursa Malaysia has my applause for this.
If you like this article, then you may like my other articles as well. Feel free to subscribe to my newsletter so you can get the latest update from me when I posted a new article. 🙂
[mc4wp_form id="236″]
Oh ya, you will also get an exclusive stock dashboard spreadsheet for FREE when you become one of my email subscribers.
If you want to receive more updates from me, feel free to follow my social media below. I would love to connect with you!