If you still haven't invested and are interested to invest in Bitcoin, then you came to the right place. In this article, I will explain why I invest in Bitcoin and how I invest in Bitcoin in Malaysia.
At first, I was very skeptical about Bitcoin. It's existence, legitimacy, and value. But after I read an article by Aaron about "Why Invest in Bitcoin", my perspective on Bitcoin (and cryptocurrency) changes.
Disclaimer:
I am not a licensed financial advisor. This is only my view and opinion about Bitcoin and it isn't a buy/sell recommendation. Please always do your due diligence before you invest.
What is Bitcoin
In simple terms, Bitcoin is a digital asset stored in a digital ledger using cryptography, a technique to secure communication. It was launched by a group of people named Satoshi Nakamoto in 2009.
Unlike bank transactions, exchanging Bitcoin doesn't need a third party to validate its transaction. It uses a public list known as Blockchain, a decentralized system that stops people from double-spending, making copies, or undo-ing the transaction.
I'm not an expert on cryptocurrency, so I'm not going to explain much. But if you are interested to know the details, check out this article that explains Bitcoin to a 5 years-old kid.
The Value of Bitcoin
You shouldn't compare Bitcoin with stocks. Unlike stocks, Bitcoin doesn't have a business behind it. Its intrinsic value lies in its scarcity and the level of trust from the community.
Unlike fiat money, we can easily spend and receive Bitcoin from anyone, anywhere, anytime throughout the world. It's because it is detached from a bank or a government.
I prefer to label Bitcoin as a digital asset instead of cryptocurrency as it is more suitable for value preservation than being used as a currency.
While many said Bitcoin is an alternative to gold, it is partly true though.
Like gold, Bitcoin supply is limited (with a cap of 21 million). Both of them are often invested as safe-haven assets, high volatility, and have little to no correlation with the interest rate.
However, gold is a physical asset and has historical demand for centuries. These differences made Bitcoin not suit for an apple to apple comparison with gold.
Personally, I prefer Bitcoin for its flexibility and innovation. I think it is more valuable because it has the potential to disrupt the traditional monetary system.
The Historical Return of Bitcoin
If you invested in Bitcoin 10 years ago, guess how much return will you get?
I know! The returns are incredibly high and delicious!
But what if you invested in the peak in 2017? You could potentially lose more than 70% of your money.
Bitcoin can be a super risky investment if you choose to invest for the short-term. Hence I choose to hold (hodl) it for the long-term.
The Risks of Bitcoin
There's always a risk when it comes to investing. For Bitcoin, it has a hell lot of them.
You may easily lose money with Bitcoin investment as its value is highly volatile.
An asset without regulation might be a bad thing for investors like us.
Bitcoin opens to cyberattacks since it is totally digital.
It has limitations in usage as many still don't recognize Bitcoin as a legitimate exchange.
Bitcoin is yet to become a mature technology, although it has been around for 12 years.
The change of law in your country may affect your Bitcoin holdings.
So how can we mitigate these risks?
My Bitcoin Allocation
I have invested in Bitcoin since August 2020. As I see it as a high-risk high-reward investment, I only invest 1% of my total investment allocation into Bitcoin.
Fast forward today, Bitcoin made up 6.2% of my total investment portfolio. This is due to my additional top-up of around 3.5%, Bitcoin's value increase, and the referral bonus I received from Luno.
If you plan to invest in Bitcoin, invest not more than 10% of your total investment capital. For instance, RM1,000 is the maximum you can invest into Bitcoin if you have RM10,000 in investment.
You don't want to expose all your money to a high-risk investment. If you all in Bitcoin and it suddenly goes south, you need a lot of effort to earn back what you lost.
How To Invest in Bitcoin in Malaysia
Since I got you covered with the basics, now let's get into the practical part.
To invest in Bitcoin, you need a platform to exchange it. There are total 3 exchange platforms approved by Malaysian Security Commission (SC):
Luno Malaysia Sdn. Bhd.
SINEGY Technologies (M) Sdn. Bhd.
Tokenize Technology (M) Sdn. Bhd.
Personally, I choose Luno because its app is smooth and user-friendly. I didn't actually try the other two platforms, so I can't give any comment on them.
Steps To Register a Luno Account
Anyway, here is how you can register a Luno account and invest in Bitcoin: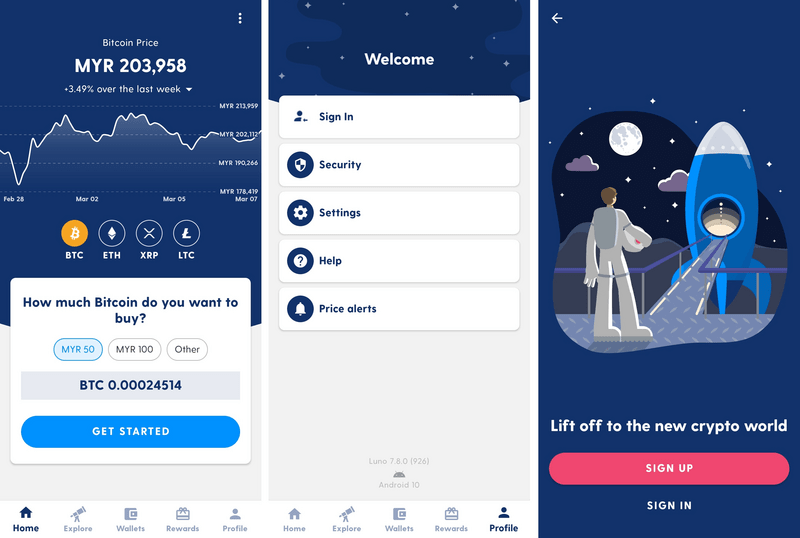 Download and install Luno from App Store or Play Store. Launch it, tap sign in at Profile tab, then click Sign Up.
Create your password for Luno and you need to confirm your registered email.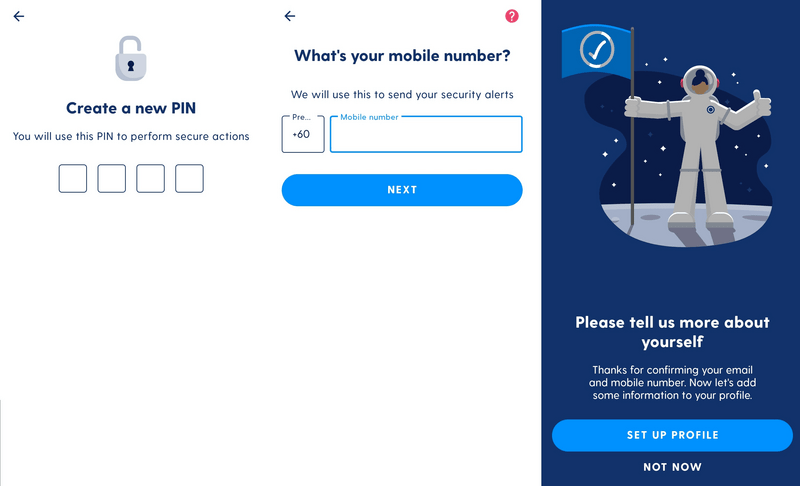 After confirmed, create your 4-PIN for Luno, key in your Malaysian phone number, and verify it with OTP from SMS.
After that, you are required to fill in details such as full name, IC, residential address, and answering some questions.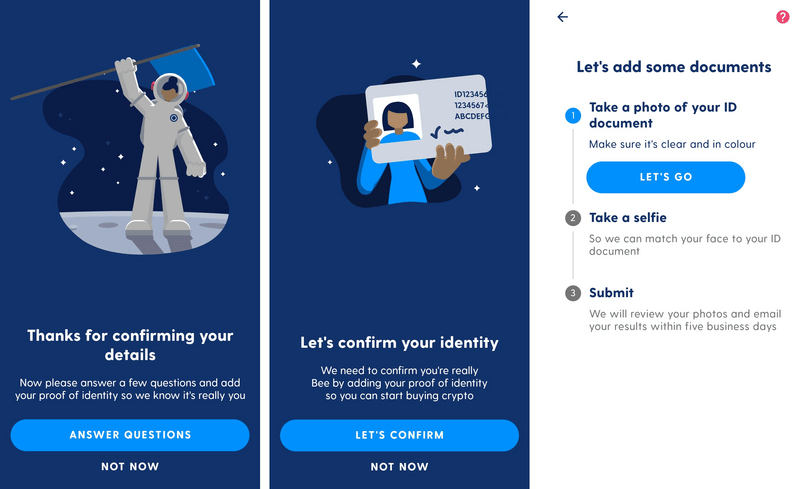 Next, you need to capture photos of your IC and your selfies to prove your identity. Confirmation will usually take around 5 business days.
After your account is confirmed, remember to key in my referral code "GMJZTR" to claim your free Bitcoin worth RM25 after you bought RM250 worth of Bitcoin.
When Should You Buy Bitcoin
If you are asking this question, you're probably trying to time the market. For that, I'm going to throw you a quote that often used by many financial gurus:
Time in the market beats timing the market.
To answer your question, the short answer is right now.
The long answer is, if you are afraid of buying Bitcoin at its peak price, then you can use a method called dollar-cost averaging to lower that risk.
My Investing Strategy for Bitcoin
Luno allows us to deposit a minimum of RM10 into our Luno wallet. But for a relatable explanation, let us say we want to invest RM100 into Bitcoin.
I call my investing strategy the 3-3-4 rule which incorporates the DCA method. First, I will divide my total allocation into 3 funds. So I will have RM30, RM30, and RM40.
I will first buy RM30 worth of Bitcoin first, then another RM30 in the next month, and RM40 in another month.
But there's an exception for the fixed schedule. If the price drops more than 10%, we will take the opportunity to activate our second fund. If there is another further drop, we will invest our remaining fund.
With this strategy, we can take the opportunity to average down our entry price. It also helps us to prevent emotionally influenced investing decisions when we have a fixed schedule.
Automated Investing with Luno
The strategy I shared above is using the DCA method with a lump sum of money. But there is a better way to invest into Bitcoin with Luno.
Luno provides us a repeat buy feature to automate our investment. You can choose to automatically buy Bitcoin on a daily, weekly, or monthly basis.
Moreover, you can set a repeat buy with just a minimum of RM3! How awesome is that?
Automated investing will help us put our emotions aside and keep investing regardless of its price. This way, DCA allows us to buy more Bitcoin when its price is low and benefit us in the long run.
Nevertheless, the 2% service charge is the only drawback of this repeat buy feature.
Verdict
No matter you support or oppose Bitcoin, undoubtedly it brings a whole new shift in the finance world. A decentralized system can be a double-edged sword. It is totally up to you whether you want to avoid it or join the ride.
Again, Bitcoin is a high-risk investment. Hence you shouldn't invest more than 10% of your total capital into Bitcoin. With proper risk management, Bitcoin may give you a boost in your investment return.
If you want to get a free RM25 worth of Bitcoin from Luno, don't forget to use my referral code "GMJZTR" when you register a new account.
Blog Update & Social Media
If you like this article, then you may like my other articles as well. Feel free to subscribe to my newsletter so you can get the latest update from me when I posted a new article. 🙂
[mc4wp_form id="236″]
Also, you can also get my new blog post updates by following my social media below. Don't be shy and feel free to interact with me as well. See you there!