You need a savings account to start saving money in the bank. Similarly, you need a brokerage account to start stock investing in Malaysia.
In this article, I'm going to provide a step-by-step guide on how to register an M+ Online (Malacca Securities) brokerage account in Malaysia
By the way, this is not a sponsored post for M+ Online. I genuinely like to use it and hence write an article about it.
p/s:
After I wrote the article about "Bursa Anywhere", I realized that we don't get our brokerage account automatically. We need to manually register a brokerage account even when we registered a CDS account from Bursa Anywhere.
In other words, there is no proper integration between Bursa Anywhere and the ADA (aka brokerage firms). Hence I wrote this article for readers who already read my Bursa Anywhere article.
Prerequisite for the Trading Account Application
Front & Back IC (2 Images)
Your Bank Statement (Joint Account is Not Allowed)
RM11 (RM10 CDS opening fee, RM0.50 admin fee, RM0.50 refundable fee)
For the bank statement, please prepare it in image format (jpg, png). You will find errors when you upload it in PDF format. It took me half an hour to realize that PDF format is not supported.
Get Started
To register a new trading account from M+ Online, just visit their official website and click proceed.
You will then prompt to fill in your IC number, email address, and phone number. These information will be used to check if you are a new user.
Step 1: Personal Particular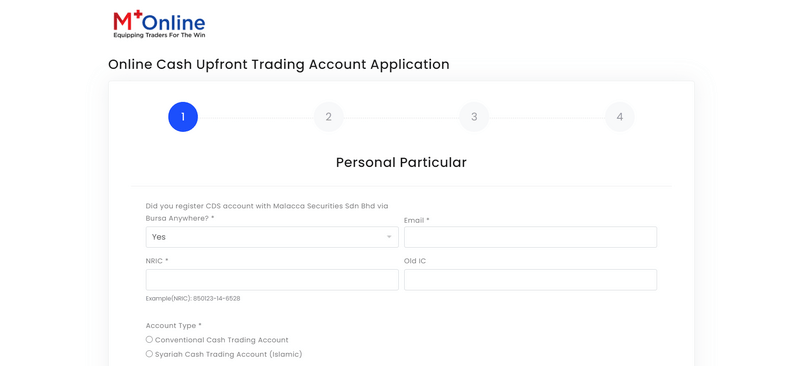 As the first step, you will key in your personal details. Here is the information you will be expected to provide:
CDS Account
Basic information such as gender, race, marital status
Address as per NRIC
Employment details (company name, annual gross income)
IC Attachment (Front and Back)
Investment Risk Profile
For Those Who Already Registered a CDS Account
There is a part where you need to mention if you already have a CDS account. If you came from my Bursa Anywhere article and already registered one, then choose "Yes".
Investment Risk Profile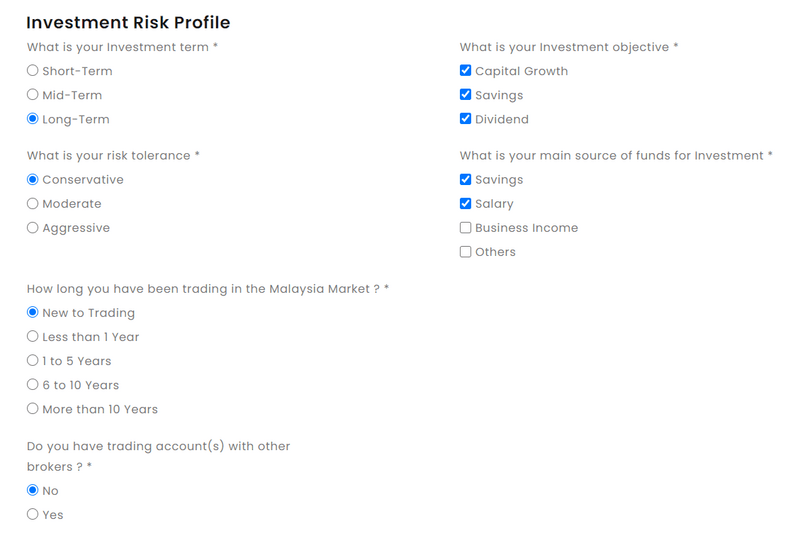 In case you have no idea how to fill in the investment risk profile, you can refer to mine in the image above.
Step 2: Spouse Detail
If you are married, you will need to key in some basic information about your spouse, such as her employment details.
If you are single, then you will be directly skipped into Step 3.
Step 3: Financial Particular
In this step, you need to attach your bank statement. Other than checking your name, bank name and account number in the statement, make sure your statement is not in PDF form.
Step 4: Summary & Confirmation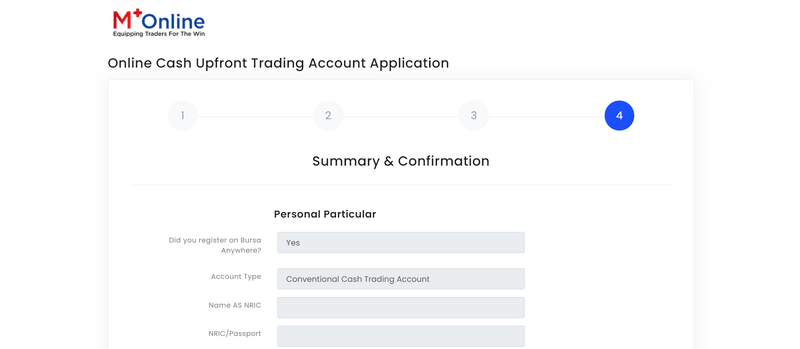 This is the final step before you pay the fees. So make sure every detail you filled in is accurate.
Declaration
This is part of Step 4 where we need to do some declaration. You may refer to what I answered in the image above.
Step 5: Pay The Fees
As I mentioned above, you need to pay RM11 for the registration. (RM0.50 will be refunded to you)
To be safe, you should use the same bank account as the statement to pay the registration fee. If you used the wrong account, they won't refund you the money. Speaking from experience here.
Waiting for Approval
After successful payment, the approval may take around 2 to 3 weeks. When your account is approved, you will receive 3 emails from Malacca Securities.
Their agent will also contact you via WhatsApp. You just need to follow the instruction provided by the agent, and you will have your own brokerage account to start your DIY stock investing journey! Yay!
Related Article: 10 Important Things to Know Before You Invest in Stock Market
Summary
Honestly, the whole process of registering an M+ Online brokerage account online is really simple. This is not available when I started my investing journey in 2019.
So new investors nowadays are really lucky to be able to open a brokerage account online.
Meanwhile, please do not register a CDS account via Bursa Anywhere if you plan to register an account from Malacca Securities. You have to pay double the fee for CDS account registration. Despite the customer support from M+ told me that it will be refunded, they never did.
Instead, register both trading account and CDS account from the M+ Online website. You don't have to apply for a CDS account again from Bursa Anywhere.
This is a short article where I only cover account registration. If you are interested to learn more about how to use the M+ Online app, feel free to comment in the blog below. I'll write one if there are demands.
Blog Update & Social Media
If you like this article, then you may like my other articles as well. If so, feel free to subscribe to my newsletter so you can get the latest update from me when I posted a new article. 🙂
[mc4wp_form id="236″]
Oh ya, you will also get an exclusive stock dashboard spreadsheet for FREE when you become one of my email subscribers.
If you want to receive more updates from me, feel free to follow my social media below. I would love to connect with you!