If you are into personal finance, you will surely read about having an emergency fund. Before I explain why we need an emergency fund and where should we invest it, let's talk about what is an emergency fund.
By definition, an emergency fund is a saving that you keep for emergency use. When I say emergency, it shouldn't be your new iPhone or Japan trip. Emergency should be something unexpected, such as a car accident, roof leak, or unexpected health illness.
Why We Need an Emergency Fund
Life is unpredictable. Who would have expected a pandemic that caused many businesses to go bust?
Not that I want to curse you. But let's be real, there will be at least one unexpected huge expense in everyone's life. *Touchwood*
That's why it is important to have an emergency fund. It gives you a sense of security when an emergency happened. It acts as a cash cushion to soak up unexpected damages.
Here are the benefits of having an emergency fund:
You won't panic when unexpected things happen.
It gives you peace of mind, financially and mentally.
You can still survive for a few months when you lost your job.
It allows you to take some risks on businesses or investments.
The 5 Stages of Emergency Fund
Since you are clear on the importance of having an emergency fund, let's talk about the 5 stages of an emergency fund.
These stages are meant to let you keep track of where you are now and motivate you to keep going.
Stage 1: RM1,000
For those who have little savings or none, this will be your first step. While RM1,000 may seem too little, it will be helpful for minor unexpected events.
If your car's tyre punctured, car battery died, or house roof leak, this one thousand will be a life savior.
Ways to save your first RM1,000
How to start saving? You can consider one of the ideas I have below:
Save The Green: Save every RM5 note you have. You will reach your goal when you have 200 pieces of it.
Save RM10 every day. You will reach your goal in 100 days.
Save RM50 every week. You will reach your goal in 20 weeks.
When you managed to save RM1,000, don't forget to reward yourself with something that costs very little like a Sundae Cone from McD.
Stage 2: One Month Expenses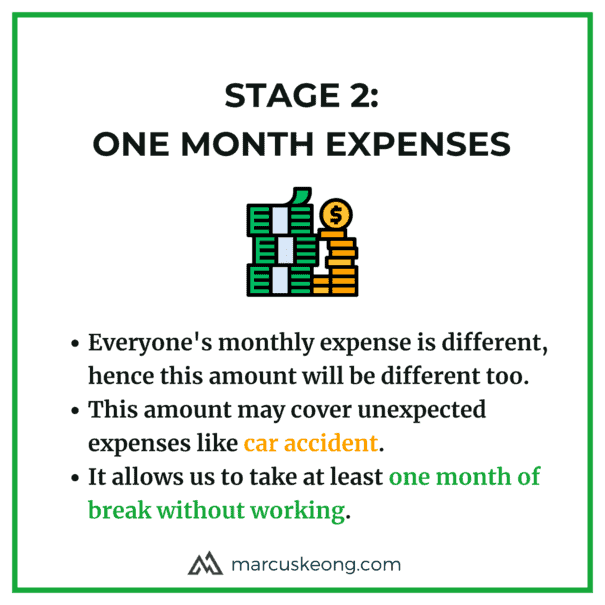 After stage 1, you should start saving an amount worth one month of expenses. Everyone has a different amount, depends on how much is your monthly expenses.
For me, my family expenses are around RM4,000. So I need to save at least RM4,000 to reach this stage.
If you have no idea how much is your monthly expenses, you should consider tracking your expenses. You can also use my own customized expenses tracker spreadsheet to track your expenses online.
If you reached this stage, congratulations! You now can survive for at least one month without any income.
Stage 3: Three Month Expenses
In order to cover more unexpected expenses, you should aim for an emergency fund worth 3 months' expenses.
I can guarantee that you start to feel a sense of financial security when you reached this stage.
After all, a 3-month buffer is better than a 1-month buffer when you lost your job. It will never be a bad thing to save more money.
Stage 4: Six Month Expenses
I'm a conservative guy. So my recommendation is to have an emergency fund worth 6 months of expenses.
Why 6 months? According to my instinct, I reckon that your 6 months of expenses will be worth more than RM10,000. (Unless your monthly expenses are less than RM1,666)
Having a 5-digits emergency fund will surely cover most of the unexpected expenses. From here, you can start taking some risks with your remaining money such as investing in stocks or starting a business.
Stage 5: One Year Expenses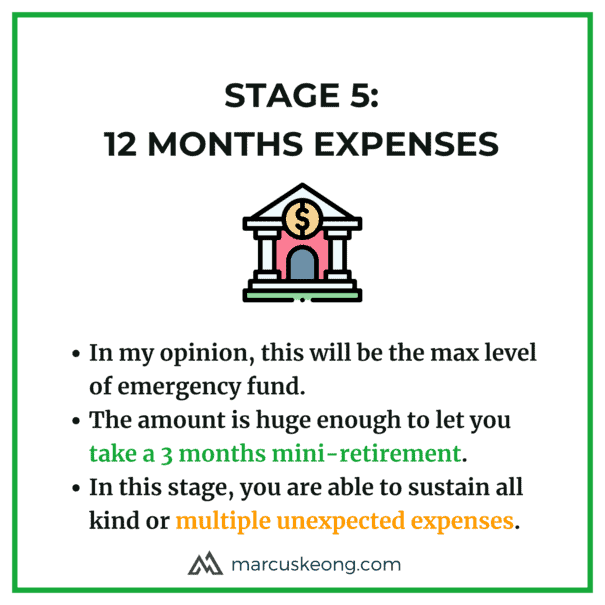 This final stage of the emergency fund may be extravagant for you. But having one-year expenses worth of savings is really helpful for business owners.
Other than personal expenses, business owners need to support their operating expenses as well. Hence having these huge buffer savings allows them to be more sustainable during an economic crisis.
Even you're not a business owner, reaching this level will give you a lot of flexibility.
Let say you are exhaust from your day jobs and looking for space to breathe, you may try to take a break from your jobs. This fund allows you to take a mini-retirement for a few months, recharging yourself before getting back to your career life.
Hey, don't say I'm teaching you bad things! This is a great thing to do if your day jobs affect your mental health. Moreover, you should be enjoying life, not working all day.
Where to Invest Your Emergency Fund
Before I suggest where to save your emergency fund, let's talk about the "emergency fund" that I DON'T recommend.
Stocks/REITs/unit trust funds – Do not place your emergency fund where your capital is at risk. We cannot predict when an emergency will happen.
Credit cards – Some people recommend this as an emergency fund, which I think it's totally absurd. You will be charged with high interest if you couldn't afford to pay it on time.
Fixed Deposit – It may seem like a great idea. But again, we cannot predict when an emergency will happen. You will not get any interest when you withdraw it before your FD matures.
Your parents/friends – Eh c'mon! Asking for money from family or friends is not a nice thing to do. Try to avoid this if possible.
In essence, your emergency fund should be:
In the form of cash.
Stored in a place where capital is guaranteed.
Your own money!
With all the criteria, a savings account is the safest place for your emergency fund. But why settle for an insignificant interest rate when you have better choices?
OCBC Frank Account
OCBC offers us a high-interest savings account that gives us a 1.8% annual interest rate (10th Feb 2021), which is the 1-year FD rate.
Personally, I use this account to place my emergency fund. Here are the reasons:
You can transfer this fund via online transaction INSTANTLY.
No lock-in period like Fixed Deposit.
You can deposit and withdraw your money anytime (with a minimum of RM20 in your account).
You can withdraw the money with an ATM card.
Capital is protected by PIDM up to RM250,000.
For more information about opening this account, you can check out my buddy's review: Frank by OCBC Review, by Yi Xuan, No Money Lah
StashAway Simple
If you are looking for a better interest, StashAway Simple might be a better choice.
In case you have no idea what is StashAway, it is a robo-advisor platform that is quite popular in Malaysia. Other than its equity portfolio, StashAway also offers a cash management portfolio, known as StashAway Simple.
According to the StashAway team, StashAway Simple is as risky as investing in a fixed deposit. In other words, you can rest assured that your capital is (almost) guaranteed. On top of that, the underlying fund is also Shariah-compliant.
Reasons to choose StashAway Simple to invest your emergency fund:
Up to 2.4% return per annum for your money.
No lock-in period like Fixed Deposit.
You can deposit and withdraw your money anytime.
No minimum balance required.
2.4% return is after fees taken into account. In other words, no fee will be charged on top of it.
The only drawback of StashAway Simple for me is their deposit and withdrawal take 3-5 business days to process. If your unexpected expenses need immediate action, then you'll in deep trouble.
To counter back this drawback, you may use a credit card to pay first. Then pay your credit card with the emergency fund in StashAway Simple. They become a great combo for your emergency fund.
With this method, it is okay for you to use a credit card! Haha!
Property Flexi-Loan
Invest my emergency fund in a loan? Yes, you read that right.
But of course, this is given that you have a property loan and it's a fully Flexi-loan.
Personally, I do not have any experience with this method. But I read that you can deposit a lump sum of money in the current account linked to your property loan. The sum of the money will help to reduce your loan interest and pay more on your loan principle.
When needed, you can withdraw from the current account. But of course, you need to separate the emergency fund with your monthly installment payment. Else it defeats the purpose of placing your emergency fund.
To understand more about this, you can check out the article by Loanstreet "Flexi vs Non-Flexi Property Loan Options".
Summary
Whether you are a conservative person or a risk-taker, an emergency fund is always a checklist to have a better financial position. I will always recommend you have an emergency fund before you start investing.
I hope this article provides you sufficient information on why, how, and where to invest your emergency fund.
When you have your emergency fund ready, you can start exploring how to invest your money.
Blog Update & Social Media
If you like this article, then you may like my other articles as well. If that so, feel free to subscribe to my newsletter so you can get the latest update from me when I posted a new article. 🙂
[mc4wp_form id="236″]
Also, you can also get my new blog post updates by following my social media below. Don't be shy and feel free to interact with me as well. See you there!