I still remember when I got my first paycheck from my first job, it was a thrilling and exciting moment. As a filial son, I treated my whole family to a good meal at a restaurant. It feels so good to see them happy and enjoy the foods, having laughter while chatting together.
With my job which requires more than 40 hours a week, I might have enough money but not enough time. How wonderful if I can have more time with my family. With that naive dream of mine, this is how I started learning about passive income and ventured into the financial independence journey.
Definition of Financial Independence
Before we start into the FI topic, I would like to tell you a story of an ordinary man, with the help of the graph below. Let's call this ordinary man, Alex.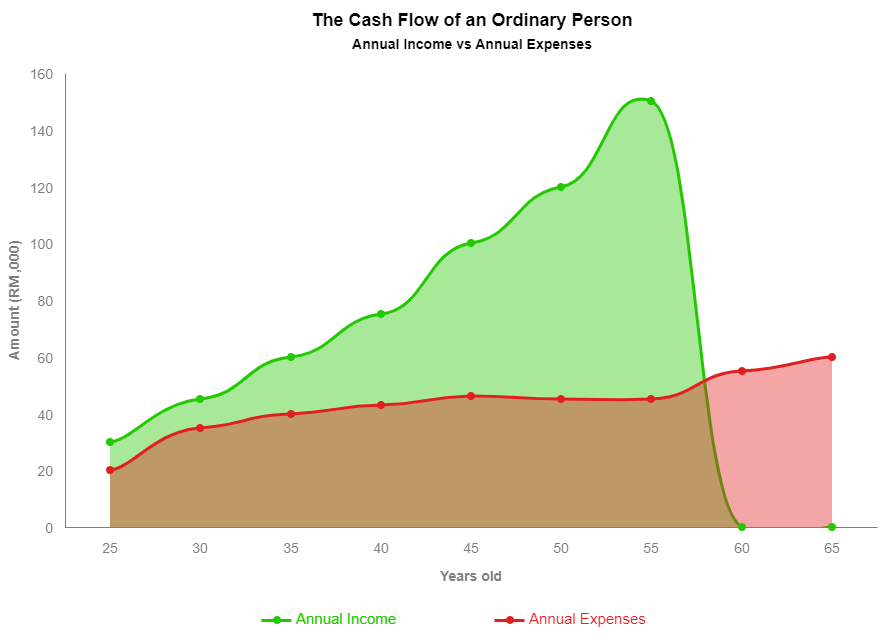 Alex is a hardworking person, who started working in a tech company as an engineer. He slowly climbs the corporate ladder and achieves 5 figures monthly income at age 48. Even though he has no idea how to invest his money, he already saved a sum of money for retirement, smart Alex!
When he is 55 years old, he decides to retire by living off from his savings. He enjoys his retirement life by traveling every month, relaxes at the beach by listening to the relaxing sound of ocean waves (and watching bikini girls). Naturally, his annual expenses in his retirement age are higher than when he was working.
While this sounds okay to you, Alex is facing several financial risks:
Alex's savings might not enough if he will live a long life.
Alex has no other income streams to replenish his savings.
Alex is exposed to the risk of financial emergencies such as car broke down, medical expenses.
Merdeka from Your Job(s)
If Alex has something called passive income streams that funds his expenses even after retiring, then he will be less exposed to the risks mentioned above.
From the graph above, you achieve financial independence when you have passive incomes that can cover all your annual expenses. In other words, you can live your life without worrying about money, and that's financial independence.
Remember when our YB Tunku Abdul Rahman shouted "Merdeka" 3 times for Malaysia Independence from Great Britain in 1957? When you achieve financial independence, you can go to your boss, tender your resignation letter and shout "Merdeka"! (Okay, please don't do that even you did reach FI)
Sleep Also Earn Money
Achieving financial independence is not an easy feat. First, you have to figure out how to create your passive income streams. What is passive income, you ask? The Legend said that it is the money that you earn when you are sleeping.
Of course, great things like passive incomes don't come easily. Most of the passive incomes require sacrifices in the form of money, time and efforts in the initial stage. Here are a few examples of passive incomes:
Interest from The Bank
Rental income from Properties
Ads Revenue from Blog / Youtube Channel
Royalty incomes from Book / Music / Photos
Okay, I know what you're thinking. But you are not going to live with the bank interests! No way! Its negligible returns can't even beat the inflation rate. Dividends and rental incomes will be better ways for passive income. If you don't have much money, then ads revenue or royalty incomes might be a better choice for you.
How to Start Your FI Journey
Now we roughly know what is passive income and how to generate them. But how much money do we need to reach the stage of financial independence aka FI?
The Simple Way of Calculate FI Number
According to Ramit Sethi, the first thing to do is to calculate the yearly expenses you wish to have. The second thing is to multiply this number by 25. That will be your total amount of money (aka FI number) you need to be financially independent.
For instance, here is a table showing how much you need to save for each kind of expenses:

The higher your expenses, the higher your FI number. In other words, you need a huge amount of money to enjoy your retirement.
Multiply By 25 & The 4% Rule
Why multiply by 25? Why not multiply by 20 or 15? Here's why.
The 4% rule and multiply by 25 rule are commonly used by the FI community.
However, this "simple way" can only be applied if you have an investment with more than 4% returns every year after deducted inflation rate. This means you cannot depend on the bank interest, not even Fixed Deposit.
Financial Independence in Malaysia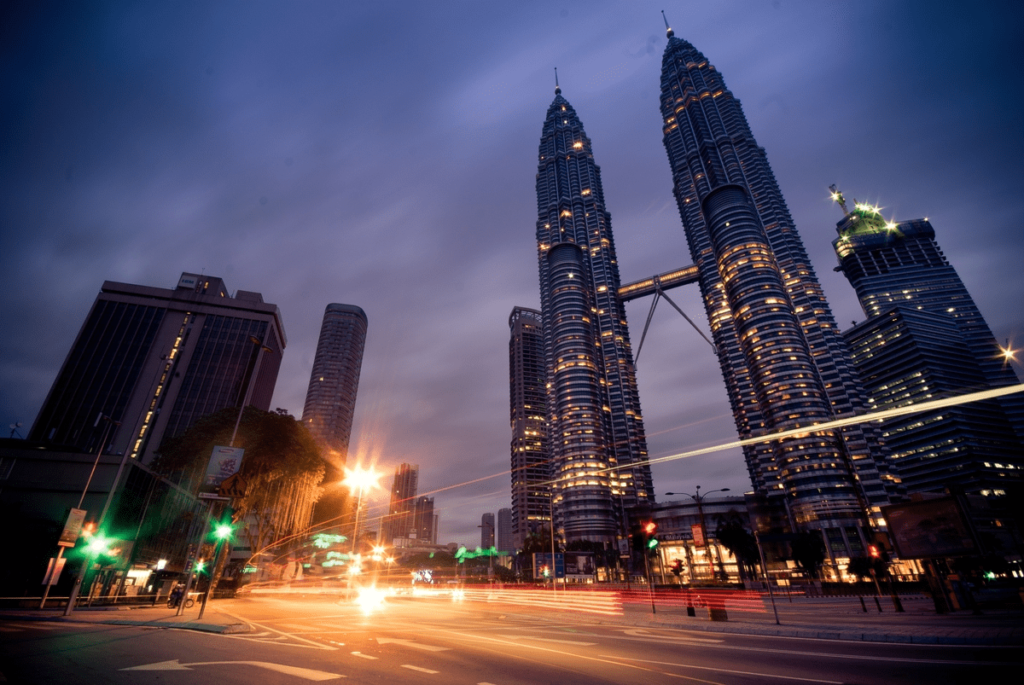 If you already a FI enthusiast, you will find that most people suggest investing in the S&P500 index fund. However, it might be tough to invest in one if you are a Malaysian (like me). Moreover, the currency exchange fee usually rips us off if we use our local banks to invest.
Instead of sticking with US ETF, my ideal way is to invest in robo-advisors or REITs (Real Estate Investment Trusts) in Malaysia.
Another Way of Reaching FI
You might be saying, do I really need to know how to invest in the Stock Market in order to reach FI? Not really. If you look back at the FI graph, the basic requirement of being financially free is to have passive income. The good news is, there are a lot of ways to generate your passive income.
Invest in properties for rental incomes is another great way to have your passive incomes. As this method requires huge capital to start, I personally prefer stock investing.
Other than investing your money, you can choose to invest your time in content creation for passive income (e.g. Blogging, Youtube) or e-commerce (e.g. Amazon Dropshipping). However, these methods require tremendous effort and time before you can see decent results.
Generally, it does not matter what kind of passive income you are trying to create. As long as your passive income is generated regularly and it covers all your annual expenses, you already have financial independence! *applause*
All you need to do is to calculate how much you earn in a year from your passive income streams and draw the FI graph to track how far you are from FI.
I would love to cover the detailed guide on how to create your own passive income here, but it will be too long to write. I will share it next time in a separate post, so please stay tuned for it.
What's Next After Financial Independence
What do you want to do in life if you don't have to worry about money again? I strongly suggest you think about this question now, even if you haven't achieved FI. This will definitely help you to rethink about your dream life and reshape your current life now.
Financial independence is not about being rich, it's about being free from your work and do things you love in life. I would rather live a happy life with options to make, than a rich life with busy schedules, sleepless nights and difficult clients to entertain. Unless you are happy with this kind of life, then go ahead.
There will be all kinds of opinions regarding financial independence. Whether you want to achieve it fast or big, it doesn't matter. The most important thing is now you have a new life goal to pursue and I hope you enjoy the journey (process) to the destination.
Cheers and onward to Financial Independence!
The Takeaway from This Post
Financial independence is when you no longer need to work for money and have the freedom to make life decisions.
To achieve financial independence, you need to create a sustainable passive income that can cover your annual expenses.
Multiply by 25 and the 4% rules can be applied to calculate how much money you need to achieve financial independence.
Blog Update & Social Media
If you like this article, then you may like my other articles as well. If that so, feel free to subscribe to my newsletter so you can get the latest update from me when I posted a new article. 🙂
[mc4wp_form id="236″]
Also, you can also get my new blog post updates by following my social media below. Don't be shy and feel free to interact with me as well. See you there!