In Chinese weddings, we couldn't call it complete without the tradition of Chinese Betrothal (Guo Da Li) and Bed Setting. And I can totally understand when you said you are totally clueless about those traditions. In fact, I always worry about what things to prepare and how to buy those things. Therefore in this article, I will try my best to tell you practical ways to prepare them.
The Sincerity Test For Both Families
Speaking of Chinese Betrothal (过大礼 Guo Da Li), I bet most of us will think (and fret) of the dowry money (聘金). In fact, I just found that other races like Indians and Malays (they called it wang hantaran) have similar things in their Betrothal tradition as well. So I guess this part of the wedding is inevitable.
Generally, things get sensitive when they are related to a huge amount of money. Thus a good communication is really needed between both sides of families. Certainly, it will result in a smoother Betrothal day with many big smiles on the group photo.
Okay enough talking about the surface part. Let's get to the practical part.
Preparation for Chinese Betrothal aka 过大礼
Chinese Betrothal is a formality done by grooms to bind together both families, by sending dowry money and gifts while visiting the bride's family. Often time, the day of Chinese Betrothal falls on 2 months or 2 weeks before the wedding day. Nevertheless, it totally depends on your feng shui master who calculated the auspicious date for you.
Basically, here are two main things you need to prepare for Chinese Betrothal:
Dowry Money
Betrothal Gifts
Dowry Money
To be honest, I can't really tell you the market price of the dowry money, because it should really depend on your financial status.
By right, the rule of thumb is to prepare around 3 months' worth of salary. But if your salary is less than RM2,000 then… good luck mate!
Okay chill, I'm just kidding.
For safety sake, try to save at least RM8,888. If you really cannot get that amount, you should top up with something like, for instance, a limited edition of 1g gold (My colleague's brilliant idea which works!). This will help to give some "faces" to the bride's family. You know la, Chinese loves "faces".
Nevertheless, both of you should discuss the amount prior to Guo Da Li. Let your fiancee do some check with her family and figure out the expected amount. Meanwhile, please refrain from making your own decision and keeping the figure yourself, as this will ends up in disappointments or dissatisfaction. Certainly, we wouldn't want these negative feelings in our big days, right?
Betrothal Gifts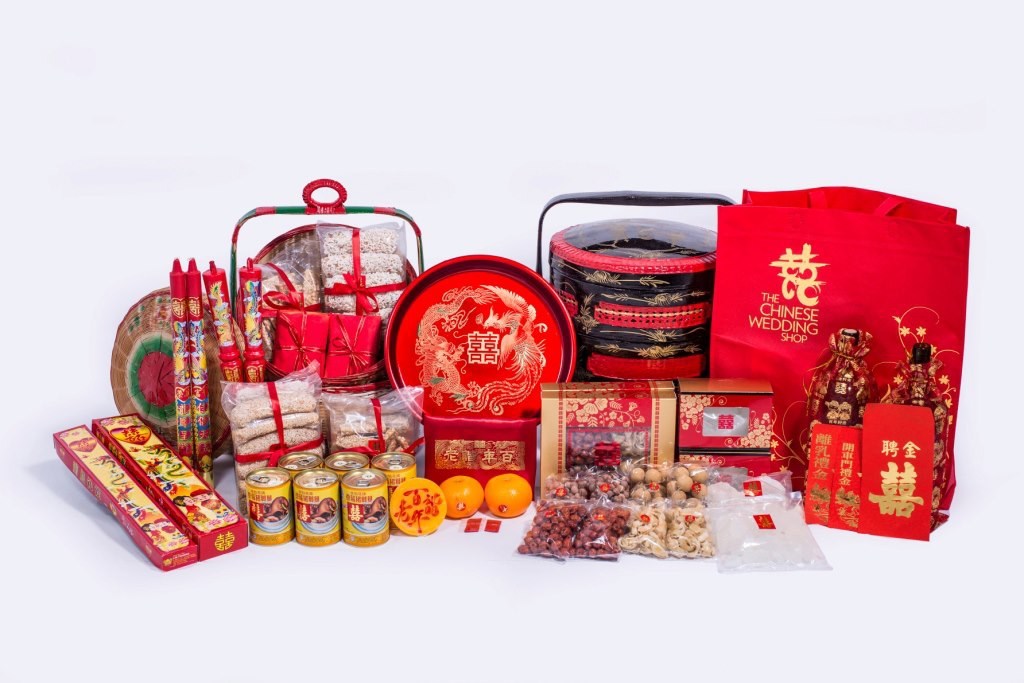 Different types of Origin (籍贯) will have different gifts to give during Guo Da Li. Some even require golds (四点金) as gifts.
As a start point, you can just speak to your parents and her parents about the gifts needed. While the Internet may have a list of gifts, they may have different opinions.
The Groom's Checklist
As a reference for you, here are my own list of the Groom's gifts to the Bride's (Teochew) family:
Two Bottles of Red Wines
Wedding Pastries (喜饼) x 14 boxes (Requested by her family)
Dragon Phoenix Candles x 2 pairs (龙凤烛)
Dragon Phoenix Joss Sticks x 2 pairs (龙凤香)
Angpao for her elder brother who is not married (Replaced the long pants)
Angpao to replace the roasted pork (烧猪)
A gold necklace
Orange x 16
I believe my list is not the full list as I'm lucky that her parents don't request too many things.
The Bride's Checklist
Don't forget that the bride's family need to return some gifts back to the groom's family. It is an act of manner after all.
Here is what my bride's family has returned back to my family:
Wedding Pastries (喜饼) x 6 boxes
Dragon Phoenix Candles x 1 pair (龙凤烛)
Dragon Phoenix Joss Sticks x 1 pair (龙凤香)
A portion of Roasted Pork Angpao
Orange x 8
Wedding Bedside Lamp (床头灯)
Two Pairs of Wedding Slippers (红喜地板鞋)
Wedding Ruler (子孙尺)
Wedding Potty (子孙桶)
A bundle package includes longevity noodles, red dates, longan, lotus seeds, lily bulbs, candies (喜糖)
Seems like there are more things to prepare for the bride. Don't fret though. Just visit a shop that sells wedding stuff and they will prepare everything for you.
Just another tip for you. Please bring your parents or relative who knows how to reject, as some shop owners are quite pushy. You might end up purchasing more items than what is needed.
Preparation for Bed Setting aka 安床
Just like Guo Da Li (Chinese Betrothal), the feng shui master will calculate an auspicious date for the Bed Setting (安床 An Chuang) as well. It usually falls on the date between Guo Da Li and Wedding Day.
No New House? It's Okay
Most of the time, we often think of buying things for the wedding traditions. Because new couples need new stuff, that's what the elderly said.
But if both of you do not have a new house yet, then just choose the groom's bedroom. And if you already have a double bed in the bedroom, then you don't have to buy a new one. You don't have to really spend on everything if it is not necessary.
In my case, I only have a single bed in my bedroom. To get more value from our purchase, we choose to buy a bedroom set which consists of a queen-sized bed frame (without the bed), a wardrobe, a small bedside table and a dressing table (化妆台). As a result, this saved us a lot of money compared with buying them separately.
Representatives For Bed Setting
For your information, the Bed Setting is not done by the groom or bride. Instead, you need to find a representative couple who leads a good life (好命夫妇), also known as "the good-life couple". So here are 3 criteria that indicate the couple has a good life:
With a happily married partner.
Have children.
Have healthy parents. (It's optional nowadays)
Most of the time, the parents of the groom are the best representatives. But if they are not available or do not meet those criteria, you can find other relatives to help you.
Nevertheless, things have become easier and simplified nowadays. In other words, you only need to find a couple with children and skip the "parents" part. And that is why the groom's parents the best candidates.
Things to Prepare for Bed Setting
Here are the things you should prepare before the Bed Setting:
Five red packets (Angpao) with 50 cents each (the amount might be different for everyone)
A new Dragon Phoenix Bed Sheet
Wedding Tray (囍盘) with (2) oranges, red dates, longan, lotus seeds, lily bulbs, candies (喜糖), Wedding Ruler (子孙尺)
Wedding Bedside Lamp (床头灯)
Two Pairs of Wedding Slippers (红喜地板鞋)
Step by Step to Bed Setting
When you have all the items ready, here are the steps for the Bed Setting:
Firstly, the good-life couple will move the bed by a little from its original position. (To fake it like you just move in a new bed)
Secondly, the good-life couple goes near to the upper part of the bed, pat on the bed and say some nice words for the new couple. (For example, 婚姻美满,长长久久,早生贵子,百年好合)
Repeat the second step on the lower part of the bed.
Then, place a red packet on the mattress and the rest of the 4 red packets below each corner of the bed.
Next, apply the new Dragon Phoenix Bed Sheet on the bed.
Lastly, place the wedding tray with all the items mentioned above on the bed, the wedding bedside lamp at the bedside table and the wedding slippers near the table and bed.
The steps above are translated from this article in Chinese. After all that, the new couple should give a pair of Angpao for the good-life couple as an appreciation for their help.
Summary
Unlike the old days, the traditions of the Chinese Betrothal and Bed Setting have been simplified by a lot. The most important thing is the agreement from both parents, then you will have a happy ending. Try not to ask any relatives for opinions though, because you will get confused by all the different opinions. Unless your parents have no clue about the traditions, avoiding that will be a wise decision.
Next, I will write about the preparation for the wedding day as the last article for this series. Moreover, I will also provide my own wedding expenses for your reference. So please stay tuned for it.
---
The list below shows all chapters for "Malaysian Chinese Wedding Planning" series: